Brother Vellies' Aurora James is the latest designer to accuse Zara of stealing designs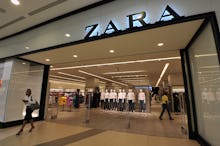 One might think after being accused and subsequently slapped with a cease and desist by over a dozen artists with claims of having their designs stolen, Spanish fashion retailer Zara might stop releasing products that looked suspiciously similar to the work of indie artists. 
However, that is not the case as the brand is once again being accused of stealing designs, this time by Brother Vellies' Aurora James.
The 2015 CFDA Vogue Fashion Fund winner took to her Instagram on Monday to post a picture of a Zara-tagged sandal with the caption: "Stolen from Africa @zara ???? #DharaSandals."
When one commenter wrote, "That's what retailers do," James fired back in the comment section: "That's not what all retailers do. We have tons of amazing and supportive retailers that are creative on their own. Let's hold our industry to a higher standard than expecting this type of behavior to be the norm. Yes, our shoes are a higher price point but that pricing is based on the cost of paying people in underdeveloped African communities justly and fairly and making a sustainable product. Two things @Zara could learn something about."
For comparison, here is the Brother Vellies Black Dhara Sandal.
"I debuted the style in September of last year at New York Fashion Week, which was a pretty widely attended show — Kanye came — so they've more or less been around since then," James said in an interview. "Over the weekend my friend was at a Zara store in Los Angeles and sent me a picture of that shoe."
Did she have any idea up until then? "No. I don't go in Zara," she remarked. "My first reaction was I just felt sick to my stomach and I was thinking 'OH no, I hope nobody at our workshop in Africa sees this because I knew they would be extremely upset and disappointed. It was a knee-jerk emotional response for me. And then I realized for sure it is going to affect sales of our shoe in that shape and by affecting sales it affects production which means it affects the number of people that we are able to hire and support in Africa. That's when I realized there are larger implications and costs to them doing this."
Many were quick to offer their support and share in the bafflement that Zara refuses to operate ethically, especially as scrutiny surrounding their brand continues to mount. Designer David Hart even jumped in the comments section, suggesting James issue Zara a cease and desist.
Zara joins an ever-growing list of fast fashion retailers, including Asos and Forever 21, all of whom have been accused of ripping ideas from independent designers in the last few weeks alone. Meanwhile, James herself joins the list of artists and designers speaking out against alleged stealing of their designs.
"It seems like its Zara corporate policy to just take first, apologize later," Adam J. Kurtz, one of over a dozen artists who filed a joint official demand letter asking Zara to cease and desist production on all of the garments in question, said in an interview. "It's also probably more profitable in the long run. You replicate current trends quickly for your customers, you sell a ton of product, and if, eventually, someone figures it out and has the means to fight it then they'll pay up. The majority of the time the knockoff versions are different enough to evade legal action or simply too difficult to fight, so they get away with it, over and over again."
Unlike Kurtz and co, James has yet to seek any formal legal action against Zara, or Zara's parent company Inditex, the biggest fashion group in the world. Her mentality is less "don't get mad, get even" and more centered around finding ways to stop massive corporations from plucking ideas from defenseless lesser-established artists who are just trying to build their brand in an already competitive space.
"I really want them to respond so that we can have a conversation about this. If they're so taken with a certain item, there's other ways to go about it and I think for them to try and deny it is a joke. Yes, they're a corporation, but they're a corporation made up of real people with real hearts and minds and choices. And we as consumers have a choice if we want to be a part of the problem or a part of the solution."
Though she has yet to reach out to the company beyond tagging them on Instagram, her message to them is clear. "I want them to understand that I was coming from a place of 'what you've done is in the past is the past,' let's talk about the future and what can happen so that we make positive changes and stop this from happening again. Those shoes are out there. Even if they pull them tomorrow, they probably already sold thousands and thousands of pairs, so that's already affected my business." 
"I can cry about that part," she continued, "or say 'let's stop it here and work together on building a bigger and brighter future because we're all citizens of this planet. Let's work together. No man is an island. All ships rise with the tide. Just because you make a mistake doesn't make you evil, it's what your intentions are for the future that set you apart.'"