Here's how the beef industry is putting sustainability on the menu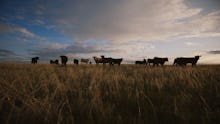 Beef is all-American. It's one of the main sources of protein and the key ingredient in one of the most American foods on the global menu: the hamburger. The U.S. consumed 24.8 billion pounds of beef in 2015, according to the U.S. Department of Agriculture, valuing the beef industry at $105 billion dollars.
But our love for beef comes at a cost. Although the carbon footprint of beef production in the U.S. shrunk 16.3% from 1977 to 2007 due to greater efficiencies in the industry, according to a 2014 study from Washington State University, the beef supply chain still requires energy and resources that contribute to greenhouse gas emissions. And with 2015 declared one of the hottest years on record, the impact of climate change is ever more immediate.
To address these concerns while continuing to satisfy Americans' appetite for beef, a new multi-stakeholder collaboration is working to make beef production in the U.S. "environmentally sound, socially responsible and economically viable."
In 2015, a wide-ranging coalition of nearly 100 representatives across the beef supply chain, from ranchers and feedyard operators to conservationists and retailers (including McDonald's), formed the U.S. Roundtable for Sustainable Beef. Inspired by a first-of-its-kind global roundtable, the USRSB's mission is to develop metrics, pilot projects and verification methods aimed at addressing the environmental, social and economic impacts of beef production. Barely a year into that mission, the USRSB has already made progress on identifying key indicators for sustainability, establishing data-gathering and verification procedures, and providing an equitable, collaborative forum for its membership.
Just getting those stakeholders together was a feat in itself, according to Tim Hardman, beef director of World Wildlife Fund, a USRSB member. "It takes a lot of time for that trust to be built up that we can sit around the same table and discuss these things," said Hardman in a phone interview. "There's finally enough trust built up between the supply chain that we can have a discussion about it. The global roundtable was able to agree on principles and criteria ... that was huge. To think about global beef production and to boil it down is a big deal."
Prioritizing sustainability
Beef production is among the most complicated food industries operating in the U.S., comprising a number of players. There are the ranchers that raise the cattle, the packers who process and package it and the large corporations, grocery stores and restaurants that buy the beef.
Each stage of the beef production chain has repercussions for the environment, safety and animal welfare. To address those impacts, the USRSB has identified six key sustainability indicators around which to prioritize its work: animal health and well-being; efficiency and yield; water resources; land resources; air and greenhouse gas emissions; and worker safety and well-being.
John Butler, the recently-named chair of the USRSB, says the group's fundamentally collaborative approach is essential to pursue sustainability in these six areas — which is long overdue for the industry.
"The alignment component is critical to us ... being sustainable in the future," said Butler, who is also CEO of the Beef Marketing Group, in a phone interview. "Working closer with the ranchers or the farmers and the end users, and ultimately really meeting the needs of the consumer — that's one of the things that's been weak forever."
BMG is a collective of 18 feedyard cattle ranches that work together to make each of their operations more sustainable. Together they have established 43 standards that all of the ranches adhere to. Butler's dual leadership role at USRSB and at BMG embodies that collaboration up and down the chain in exploring solutions particularly to different stages, such as feedyards.  
Butler brings in nutritionists and food safety experts to BMG to ensure that his cows are being fed the right amount of nutrients before moving to the next stage. BMG also uses consultants to determine best practices to keep the cows healthy and do the most to not harm the environment. Such consultants include Temple Grandin, among other nutritionists and experts.
Incremental impact
In prioritizing its key sustainability indicators, the USRSB is responding to the challenges faced by family ranchers like Kevin Kester and Austin Brown. Kester's Bear Valley Ranch in California has been in his family for five generations. Faced with a fifth year of drought, he downsized his ranch in order to continue to support the cows in a healthy way and adjusted how he manages the resources at his disposal.
"We poured and measured every gallon of water that we use, so we have a record of that," Kester said in a phone interview. "We used technology. We have filters in the soil for our crops so we don't put any more water into the soil than we need to."
At Brown Ranches, a fourth-generation family operation in South Texas, Austin Brown is adopting more sustainable animal care practices to keep his cows healthy, his consumers happy and his operations efficient.
"Over the years, there have been a lot of really good technological advancements ... to allow us to do a lot of the things we've always done but do them more efficiently and better," Brown said.
While changing the consistency of feed or adjusting water filter systems might seem minute, the impact of these ground-level changes can add up to a greater impact in the long-term.
"If you look at that lifecycle assessment research that's been done, there's been a small percent change no matter what category you look at," Kester said, referring to a report issued by the National Cattlemen's Beef Association. "The small percent changes over time build and compound upon each other, and it makes a big end-result difference. It has a big ripple effect."
The promise of a sustainable future
While maintaining the environment and improving animal welfare is critical to many in the industry, the desire for sustainability comes from a simple place: Consumers, now more than ever, are demanding to know more about what they're eating. Like so many other businesses responding to conscientious consumers, the beef industry is recognizing the importance of satisfying the dual bottom line of doing well by doing good.
"These are the things that keep us in business," Kester said. "If it's not economically sustainable at the ranch, then there won't be a ranch."
Whether the metrics of sustainability are economic, environmental or social, industry stakeholders are optimistic that the unity promoted by the USRSB will pave the way forward. From the larger players along the production chain to the local, family-owned operations, that kind of community will be essential for the industry to ensure its own future sustainability.
"I would like to be able to sustain what my great-grandfather started — and, each generation has made improvements to this program — to ultimately be able to pass along to my children a cattle operation that is even better than what was given to me."
As with any complex ecosystem, sustainable beef production will depend on achieving long-term balance in an ecosystem that binds together the land, animals and the people who depend on them to live and thrive.