LAPD investigating woman's claim Chris Brown threatened her with a gun in his home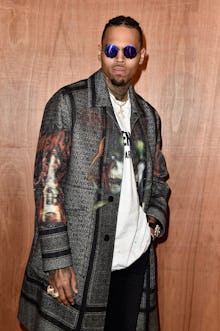 Update: After a long, livestreamed stand-off with police, Chris Brown was arrested Tuesday evening on "suspicion of assault with a deadly weapon." He was later released Tuesday night after posting $250,000 bail, according to the Associated Press report of Los Angeles County jail records. 
Early Wednesday morning, Mark Geragos, Brown's lawyer, thanked Brown's fans for "their support and well wishes," assuring them the allegations are demonstrably false.
The original story as it appears begins below.
Original story: Chris Brown allegedly threatened a woman with a gun on his property during a "violent rage" before she fled the home to call police, the Los Angeles Times reported Tuesday. Authorities are currently seeking a search warrant to investigate whether the recording artist had a weapon in the home.
TMZ reported officers were waiting outside of Brown's Tarzana, California, home with him inside not responding to their knocks. As of 8:45 a.m. Pacific time, a SWAT team was reportedly en route to Brown's home. 
Fox 10 Phoenix provided a live stream via YouTube of authorities outside Brown's home on Tuesday.
The incident allegedly involved one invited male guest and two uninvited women, one of whom is the woman who called police, according to TMZ. Apparently Ray J was also on site getting a tattoo, but has since been permitted to leave the scene.
The LAPD Robbery-Homicide Division is handling the investigation after the call came in at 3:11 a.m. PT, a public information officer, who also confirmed authorities were sent to the scene, told Billboard.
"Prior incidents at the residence include a home invasion robbery and multiple complaints of Brown and his friends riding all-terrain vehicles loudly up and down the street," the LA Times reported. 
Update: In a expletive-laden video posted to social media, Brown appeared confused as to why officers were responding to a situation at his home. 
"Every three months y'all come up with something, bro," Brown said. "What is it, what's gon' be next? Imma fart an elephant? ... I'm innocent, fuck everybody, I'm tired of hearing this shit."
Authorities held a press conference Tuesday afternoon after six people cooperated with police and were escorted from the home. "[Investigators] still have to interview the victim and any potential witnesses in this incident that may have occurred at Mr. Brown's house. At this time, that is all the information we have," LAPD police lieutenant Chris Ramirez said.
This is a breaking story and will be updated as new developments come in.
Aug. 31, 2016, 7:58 a.m.: This story has been updated.