Cisgender actor Matt Bomer will play transgender sex worker in a new film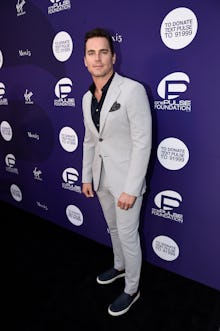 Following in the footsteps of Oscar nominee Felicity Huffman and Oscar winner Jared Leto, out gay actor Matt Bomer will star in a new film Anything, where he will play a transgender sex worker, Variety reports.
According to Variety's synopsis of the plot, the movie stars John Carroll Lynch (the kinda-maybe-killer from Zodiac), who moves to Los Angeles and begins a friendship with Bomer's character, who helps him bounce back after some suicidal thoughts. 
A lot of parallels exist between this casting decision in this role and Jared Leto's casting as Rayon in the Dallas Buyers Club. Both roles are iterations of a very old stock character: the "hooker with the heart of gold." However, as such stock characters, they only exist to serve the emotional arc of the protagonist, a cisgender male. Like Rayon in Dallas Buyers Club, the character is portrayed by a cisgender actor. 
Characters like these are huge awards bait — for example, see Leto's Oscar. But, once again, it's cisgender men who are more apt to get praise for playing transgender women than transgender women themselves. 
Once news broke that Bomer had been cast instead of literally any transgender actress, Twitter users clapped back with a pretty basic idea that Hollywood still has not embraced: cast trans actors in trans roles. 
After news broke about Bomer's casting, out transgender actress Jamie Clayton tweeted to Bomer and Michelle Rodriguez, whose transgender revenge film (Re) Assignment has earned the ire of the trans community. 
Clayton wrote, "I really hope you both choose to do some actual good for the trans community one day." 
After tweeting that, Clayton later shared with her followers that Bomer blocked her on Twitter. 
Bomer did not immediately reply to a request for comment from Mic. 
August 30, 2016, 2:34 p.m. Eastern: This story has been updated.