Here's everything we know about 'ReCore' ahead of Sept. release date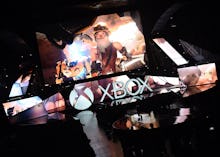 ReCore, the upcoming third-person shooter meets action-adventure game, has been described as the "Zelda of Xbox One" and was created by the team behind GameCube classic Metroid Prime. Naturally, the Microsoft-exclusive title has a lot to live up to, and fans are getting plenty excited ahead of the game's release on Sept. 13.
Here's what we know so far.
Characters: The game centers on Joule Adams, one of the last surviving humans on an apocalyptic wasteland colony called Far Eden. She's aided by a team of robot companions, each of which resembles an animal (dog, spider, ape, etc) and possesses distinct personalities and abilities that assist Joule in combat and puzzle-solving. Together, they embark on a journey across Far Eden to save humanity from further destruction.
Gameplay: The experience is characterized by puzzle-solving elements in addition to ranged combat. In the vein of role-playing shooters, players can upgrade Joule's weapons (which are primarily guns) as well as her robot-animal team members. Unlike in most RPGs, however, Joule cannot be leveled up herself.
Scope: Far Eden's breadth appears to be quite vast, allowing players plenty of space to explore, though ReCore isn't a fully fledged open world game. From the looks of the trailer, Far Eden is mostly a desert climate, though there could be surprises in store for those who progress through the game.
In addition to development from several key members of Metroid Prime's team, ReCore is produced by the legendary Keiji Inafune, who made his mark at Capcom and was a long-time producer of Nintendo's iconic MegaMan series.
Critics have had positive reactions to previews of the game since its reveal at E3 2015. The game should make a splash when it arrives on Xbox One and PC on Sept. 13.