Riz Ahmed: What to know about 'The Night Of' actor, from his rap career to his movies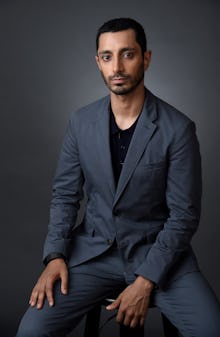 If you didn't know who Riz Ahmed was prior to 2016, then you certainly do now. The British-Pakistani actor's stardom has risen exponentially in the past few months, with prominent roles in Jason Bourne and the HBO crime series The Night Of. 
In real life, he's a man who speaks candidly about his ethnicity and Pakistani heritage in interviews, which is also reflected in his budding rap career. Ahead of seeing Ahmed later this year in a galaxy far, far away (more on that later), here's what you need to know about the actor. 
He's been outspoken about race and identity issues. Ahmed has been forthright about his experiences as a British-Pakistani actor, most recently during an appearance on The Late Show Monday. 
"When I was growing up, I felt like I had to qualify it and say I'm British-Pakistani," Ahmed told host Stephen Colbert. "But now, I kind of feel like, in this day and age, this is what British looks like: looks like me, looks like Idris Elba. And hopefully through [The Night Of character] Nasir Khan, people will see that that's what American can look like as well." 
Moreover, while speaking with Vulture in July, Ahmed said he's taken issue with the lack of diversity in British television, despite the fact that the country is ethnically diverse. He said:
The irony to me is that cities like London are less segregated than American cities like Chicago or New York, because after World War II, we were all mixed together in housing projects. But it feels strange to me that the image the U.K. productions sell is a lily-white period drama. I see fewer mixed-race couples walking down the street in America, yet the image you sell is black and white characters fighting together side by side. It's interesting to me that both societies are in denial of their reality.
His rap career reflects these sentiments. Ahmed, under the rap name Riz MC, has dropped several politically charged raps, which — as he describes — is his own attempt to tackle sociocultural issues, particularly in Great Britain. Case in point: his track "ENGLISTAN," a tongue-in-cheek reference to his Pakistani and British heritage, in response to increase in hate crimes in the country. 
"We made this video in the context of a 500% rise in racist hate crime after the recent Brexit referendum in the U.K.," Ahmed told Pitchfork in July.
Similarly, Ahmed dropped a nearly eight-minute spoken word piece "I Ain't Being Racist But..." in 2015, in which he wears a ski mask and lambasts Pakistani immigrants taking jobs in the U.K., only to slowly reveal at the end of the video that he's, in fact, Pakistani himself. 
"We can all see how much xenophobia there is out there right now, so I decided to dress up in a balaclava and do a fake racist rap," Ahmed told Dazed Digital in April. 
He's going to be in Rogue One: A Star Wars Story. Ahmed is part of the expansive cast of the first Star Wars anthology film, Rogue One. His character, Bodhi Rook, is part of a band of Rebels that hope to capture the plans of the Empire's deadliest weapon, the Death Star. (Spoiler: They'll succeed in getting the plans, since that's the opening of A New Hope.)
But Ahmed's character has a more intricate relationship with the Empire than some of his counterparts. According to Entertainment Weekly, Rook is a former pilot for the Empire, who defects to the Rebel Alliance. He still wears the Empire's insignia on his person, however — a constant reminder of his past. 
"I think [the insignia is] to remind you of where you're coming from, remind you where your debts are," Ahmed tells Entertainment Weekly. "For me personally, every day, looking at that, it reminds you of what you've done."