'WoW: Legion' reviews: Here's what people are saying about the new game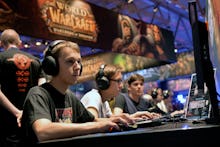 World of Warcraft: Legion is finally here. The next installment of Blizzard Entertainment's popular MMORPG series builds upon five previous expansions and marks the first WoW title since World of Warcraft: Warlords of Draenor, which was released in 2014. The game was released on Tuesday, Sept. 30 and critics are beginning to post their reviews online.
Here's what they think so far:
CNET's Luke Lancaster appreciates Legion's nostalgic qualities, writing, "Legion is roping in Azerothian all-stars, bringing back old-school enemies and iconic locations, building up player classes into the ideal versions of what they should be." Despite the familiar — perhaps even repetitive — universe, Lancaster thinks the game's fresh features will be enough to inspire WoW players both new and old.
PCGamesN's Ben Barrett praises the game's improved quest mechanics, arguing that WoW has consistently raised the bar for levelling experience in every single expansion since the very first, The Burning Crusade. Even the most recent expansion prior to Legion, Warlords of Draenor, excelled in this regard, according to Barrett. "Nobody could say [Warlords of Draenor] didn't have the best storytelling, quest structure and overall 'singleplayer' content of any expansion so far," Barrett wrote. Legion, he believes, replicates that same formula.
Kotaku's Mike Fahey is so impressed with the level of depth in Legion that it's stressing him out: "Herein lies the problem I'm going to have with Legion," he writes. "Not only does each character class feature an epic quest to obtain a legendary artifact weapon, but each class specialization has one as well." The amount of quests means gamers might be spending a lot of time occupied with the new WoW expansion. The series already has a bad reputation for being quite addictive, after all.
And of course, gamers are starting to weigh in on Twitter, as well: