Teyana Taylor: the singer is so much more than a feline face in Kanye West's "Fade" video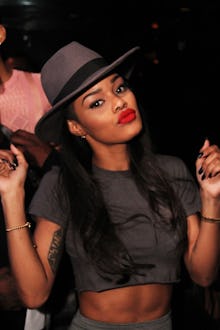 Teyana Taylor is many things: an actress, choreographer and dancer, singer-songwriter, mother of an 8-month-old child and fiancé to Cleveland Cavaliers shooting guard Iman Shumpert. But on Sunday night at the MTV Video Music awards, the 25-year-old was given her most public performance to date: appearing as an anthropomorphized feline in Kanye West's new music video for "Fade."
Within minutes of West premiering his latest project, audiences raced to Twitter praising Taylor for her incredible physique and empowering choreography, embracing her man and watching over her family (and flock?) as a mother feline in the final shot. 
Despite her nearly decade long career in the entertainment industry, many were just learning of the recording artist on Sunday night. Thankfully, she had the perfect song for this exact predicament: "Google Me."
Taylor first peeked into the mainstream via MTV about ten years ago on the network's once beloved series My Super Sweet 16. Remembered for her brazen attitude and affinity for barbies and extravagant bicycles, Pharrell Williams showed up to the "80s old school skateboard" party. Taylor gloated about her family's ties to music throughout the episode. 
But Taylor was already cultivating a brand and style of her own before that episode ever aired. Shortly before, she signed with Star Trak/Interscope records and appeared in late 2007 in Jay-Z's single "Blue Magic."
Fast forward a couple years later, and Taylor was paving her way through the industry, co-creating choreography for Beyoncé's iconic music video "Ring the Alarm," and landing her first single "Google Me" on Billboard's Hot R&B/Hip-Hop Songs chart. She co-wrote Chris Brown's "So Cold" in 2009 and released her first mixtape From a Planet Called Harlem. 
Taylor worked with West in 2010, providing vocals to his album My Beautiful Dark Twisted Fantasy on "Dark Fantasy." When her contract with her label ended two years later, she immediately signed with West's G.O.O.D. Music record label and was later featured on the label's Cruel Summer on the song "Bliss" with John Legend. 
Since then, Taylor has released a steady stream of sultry music videos and R&B jams, as well as her debut studio LP VII in 2014 and an EP The Cassette Tape 1994.
It seems Taylor is preparing a major onslaught of new projects, from a new album to a dance workout video, according to her Twitter, that will likely become highly anticipated as "Fade" continues to make waves. 
"It's emotional because I've been in the industry for so long and I've never understood why certain things weren't happening," Taylor told Vogue about the VMAs' premiere of the video. "And now I feel like my story, everything that I've been through, makes this moment so much more special. Though it took so long for this to happen, I don't feel like it could've happened at a better time."
It's just the beginning for Taylor, and yet she's been working in plain sight the whole time. Yeezy merely helped point fans in the right direction.