Trump's new campaign manager once said rape wouldn't exist if women were stronger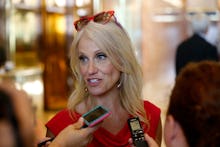 On Tuesday, the Democratic Coalition Against Trump unearthed remarks Kellyanne Conway, Donald Trump's new campaign manager, made in January 2013 suggesting that rape is women's fault. If they weren't so weak, Conway suggested, they'd be able to fight off their attackers.
"If we were physiologically — not mentally, emotionally, professionally — equal to men, if we were physiologically as strong as men, rape would not exist," Conway said on the PBS show To the Contrary at the time.
"You would be able to defend yourself and fight him off."
According to CNN, Conway offered the remarks offhandedly during a panel discussion on women in combat. 
Conway replaced Paul Manafort, who resigned earlier this month as Trump's campaign manager due to a reported clash in interests: Manafort, an anonymous source told Mic, had wanted Trump to be more careful with words.
Though Trump said he was appreciative of Manafort's "great work," he was feeling hopeful about his campaign team shake-up, telling the Wall Street Journal, "I want to win. That's why I'm bringing on fantastic people who know how to win and love to win."
The Coalition's National Finance Director Francesca Lucia said Conway's comments are just more evidence suggesting Trump and his campaign have no sense of "acceptable political views," reported CNN.
While the remarks may be three years old, they've resurfaced during a fever pitch in national conversations about sexual assault — many of which are colored by victim-blaming and male entitlement. Chessy Prout broke her silence on Tuesday to speak out about how her classmates at St. Paul's taunted her after she'd been sexually assaulted by Owen Labrie. And on Friday, Stanford rapist Brock Turner will be released from jail, after serving just three months of his six-month sentence for three felony sexual assault charges.
"We cannot have a reality show in the White House," Lucia told CNN. "The stakes are just too high, especially for women."