Officers involved in alleged coverup of Laquan McDonald's death named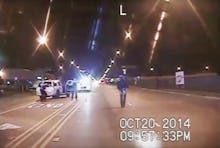 The names of four Chicago Police Department officers involved in an alleged cover-up of the death of Laquan McDonald at the hands of Officer Jason Van Dyke have been released as department superintendent Eddie Johnson filed administrative charges to fire all five, the Chicago Tribune reported on Tuesday.
Van Dyke has been charged with first-degree murder for shooting McDonald 16 times. The four other CPD personnel, Sgt. Stephen Franko and Officers Janet Mondragon, Daphne Sebastian and Ricardo Viramontes, all gave accounts of the death later shown inaccurate by video of the incident.
Key among the numerous discrepancies between the officers' accounts and physical evidence was the video, showing McDonald walking away from officers while holding a knife at the same time police insisted he was moving towards them in a threatening manner. Officers on the scene were attempting to bring in McDonald without using force, according to the Tribune, but Van Dyke arrived on the scene and began firing on him within six seconds.
In December, the city reached a $5 million settlement deal with McDonald's family.
According to the Tribune, Chicago Inspector General Joseph Ferguson originally concluded 10 officers needed to be terminated for their role in the shooting, but two retired, one quit, and another was allowed to remain on the job. The status of the 10th officer involved is unknown, per the Tribune.
In the wake of the incident, Mayor Rahm Emanuel's administration tried and failed to keep video of McDonald's death from the public. When the video predictably generated widespread public outcry, Emanuel announced a series of limited reforms, as well as created a Police Accountability Task Force — which concluded in April systemic civil rights violations and racist practices within the department are rampant.
The Department of Justice has launched its own investigation into Chicago police, but a recent Tribune investigation noted federal officials have filed zero civil rights charges in 702 officer-involved shootings in the city in the past 15 years. It also remains unclear whether the DOJ will adequately enforce any changes imposed as a result of the investigation.