French P.M. Manuel Valls says naked breast better national symbol than burkini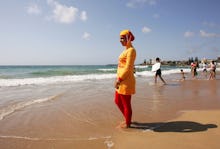 French Prime Minister Manuel Valls, an outspoken critic of traditional Muslim dress for women, responded to brewing controversy over burkini bans in the south of France on Monday by telling a crowd at a government rally that naked breasts are a better symbol for the country, the Guardian reported.
Valls referred to Marianne, an allegorical figure and national symbol of the French Republic famously captured in a painting by Eugène Delacroix, saying "Marianne has a naked breast because she is feeding the people! She is not veiled, because she is free! That is the republic."
According to the Guardian, historians said Valls appeared to have a loose grasp of the actual history behind Marianne, with Mathilde Larrere explaining the bare breast is "an allegory, you cretin!" and Nicolas LeBourg telling Libération the bare-breasted depiction of her in the Delacroix painting was just one variation of the myth.
The burkini ban controversy drew international attention and concern after French police in the city of Nice were photographed surrounding a woman wearing a head scarf on the beach as she stripped. French Interior Minister Bernard Cazeneuve met with the French Council of the Muslim Faith, warning reporters "The implementation of secularism, and the option of adopting such decrees must not lead to stigmatisation or the creation of hostility between French people."
On Friday, France's Council of State overturned a burkini ban in the town of Villeneuve-Loubet, ruling it a "serious infringement on fundamental freedoms" and opening the door for similar bans to be successfully challenged in court. However, several French mayors have continued to enforce the bans regardless, CNN reported on Monday.