Donald Trump says he'll go to Mexico to meet with President Enrique Peña Nieto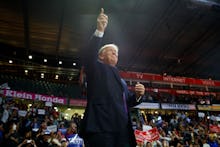 Donald Trump announced Tuesday night that he will travel to Mexico to meet with Mexican President Enrique Peña Nieto, who previously likened Trump's popularity to the rise of Hitler and Mussolini.
The visit on Wednesday coincides with a much-anticipated speech on immigration scheduled in Arizona.
Trump tweeted that he had accepted Peña Nieto's invitation to meet shortly before he took the stage Tuesday night at a rally in Washington state. The Mexican president's Twitter account confirmed the meeting, which was first reported by Robert Costa of the Washington Post.
Peña Nieto extended the invitation to both Trump and his rival Hillary Clinton on Friday, according to Costa. Steve Bannon, Trump's recently hired campaign chief executive, reportedly encouraged the candidate to accept.
The visit on Wednesday coincides with Trump's address on immigration in Arizona, which his campaign has billed as a major policy address that will detail his position on the issue. The Trump campaign and the candidate himself have shifted in recent weeks on whether Trump would support a path to citizenship for the 11 million undocumented workers currently residing in the U.S.
Trump famously kicked off his presidential campaign in June 2015 by claiming that Mexican immigrants were "rapists." His promise to "build a wall" and "make Mexico pay for it" are still huge applause lines at Trump rallies.
In March, Peña Nieto said "there is no scenario" in which Mexico would pay for such a wall. He also said Trump was taking advantage of a weak economy to push "simple solutions to problems that are obviously not that easy to solve."
"That's how Mussolini got in. That's how Hitler got in," Peña Nieto said at the time, according to Reuters.