Target Australia gets called out for selling a sexist Batgirl T-shirt for young girls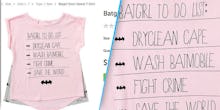 Down under in Australia, Target is getting heat for selling a Batgirl T-shirt that some are saying is incredibly sexist. 
The pink shirt, which has now been removed from Target Australia's website, was printed with a to-do list for a Batgirl, meaning the feminine reincarnation of the superhero Batman. 
The first item on the list? Dry-clean cape. The second task? Wash Batmobile. 
As pointed out by the Guardian, the equivalent Batman shirt for boys sold at Target Australia reads "Like father, like son... Yes my dad's Batman."
According to Ninac Ollins, who posted on Target Australia's Facebook wall about the shirt, this pink shirt is sexist. These tasks wouldn't be written on a Batman's to-do list, after all. 
"Target, can you explain why you are selling something as offensive as this in your stores currently?" Ollins wrote. "What message are you intending on sending to young girls? I'm insulted that you present a future where our daughters need to complete their 'home duties' before they can go out and save the world. We know that working mothers still do more housework than their spouses, we don't need you to perpetuate this inequity." 
So far, the post has been shared more than 100 times, has more than 200 comments and over 400 likes. 
"I'm sure the world won't mind being saved in a dirty cape or car," one commenter wrote on Ollins' post. Another: "Lets all go to Target with fabric markers and scribble the first two things out." 
It got enough attention that a representative from Target Australia, which is in no way affiliated with U.S. Target, responded directly to Ollins' post. 
"Hello everyone, thanks for sharing your feedback with us," the Target rep wrote. "It absolutely wasn't our intention to cause any offense with this shirt, so we really appreciate you all getting in touch with us to let us know your thoughts. We've taken this feedback on board, and sincerely apologize for any disappointment caused." 
But this isn't even the first complaint Target Australia received about this particular shirt. On August 24, a woman named Shelley Wedemeyer posted a picture of the shirt on Target Australia's Facebook wall with the caption, "Target, are you serious? In a world where so many are fighting so hard for equality for our daughters, you put this on your shelves? Speechless." 
On Wednesday, shortly after Ollins' post, Target Australia pulled the shirt. 
Mic has reached out to Target Australia for comment.