Nick Viall's 'Bachelorette' history proves why he's not here for the right reasons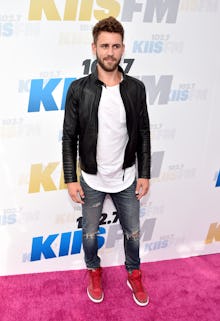 After Tuesday night's episode of Bachelor in Paradise (the debaucherous spinoff of the Bachelor franchise), our dear overlords at ABC announced that "redeemed" villain Nick Viall will star in the upcoming season of The Bachelor.
Yes, that's right: The next bachelor isn't former swimming person Robby Hayes or dead-eyed Luke Pell, but salty Viall, who has already appeared on two separate seasons of The Bachelorette and one season of Bachelor in Paradise. 
ABC is trying to spin this as a redemption story, tweeting out a photo of Viall from the official Bachelor in Paradise account alongside the ecstatic proclamation: "no longer a runner-up!" But before we all jump with joy at the prospect of Viall finally, finally finding The One, let's take a look at Viall's history and consider some of the things that make him a little, well, snaky.
We first met Viall all the way back on Andi Dorfman's season of The Bachelorette, when the Wisconsin native showed up to compete for love and fame. Viall's job, that season, was listed as "software sales executive," but there's no way he's kept up working full time while simultaneously appearing in a million iterations of The Bachelor, so at this point we should just call him a reality TV professional.
Viall made it all the way to the final two that season (Dorfman even went to Wisconsin to meet Viall's huge family!), where he was up against former professional baseball player and total jock Josh Murray.
Dorfman went with Josh (obviously), thus breaking Viall's little heart. But don't worry, because Viall came back for the very next season of The Bachelorette, bursting onto the scene as a surprise addition to the cast of Kaitlyn Bristowe's season during the fifth episode. 
Viall was in full villain mode on Bristowe's season of The Bachelorette, stalking around Ireland in a leather jacket and a million scarves. He and Bristowe even shook up the world of The Bachelor by sleeping together during a regular date (gasp!) instead of waiting for the fantasy suite.
Once again, he made it all the way to the final two (meaning his giant family had to get dragged back on national television) and Viall's rivalry with Shawn Booth was, if anything, more intense than his face-off against Josh in his last season.
But Viall's heart got smashed again when Bristowe chose Booth, and he was sent home saltier than ever.
That's where a normal person may have called it quits. Going on The Bachelorette once is a lot for a person to take — who does it twice? As a viewer, you probably thought you'd finally seen the last of salty, salty Viall.
If you thought that, you were wrong: Viall returned for the latest season of Bachelor in Paradise — and at this point, Viall's craving for fame is more than a little suspect. 
It was already a little questionable that he crashed a season of The Bachelorette halfway through filming in a quest to find a wife, but now that Viall is gearing up for his fourth full season of reality television, one has to wonder if he's Here For The Right Reasons. That's right, we're asking it: Is Nick HFTRR?
In the world of The Bachelor and The Bachelorette, being HFTRR is the ultimate badge of honor. Could Nick, already a three-time veteran of the series, really be ready to end his streak of C-list fame and settle down for a quiet domestic life? Or is his hunger for celebrity only going to grow and grow until he steals Chris Harrison's spot at the helm of the entire Bachelor universe? At this point, after so many chances, does he even deserve another shot?
It remains to be seen whether Nick is a man desperately seeking love or a sneaky fame snake — but one thing he does have going for him? He's got a flair for the dramatic. So even if the next season of The Bachelor is just another rung on Nick's climb to the top, it will probably be fun to watch.