Colin Kaepernick got support from military veterans everywhere with #VeteransForKaepernick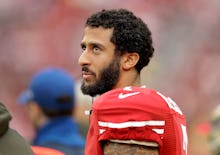 Veterans have a message: Keep our name out of your mouth. 
After San Francisco 49ers quarterback Colin Kaepernick caused a social media firestorm Friday after sitting during the national anthem at a preseason game, online commenters berated him by extolling the virtues of "freedom" and invoking the hard work of U.S. veterans. 
Only one problem — a lot of vets don't agree and they don't want others using their work to tell Kaepernick he can't exercise the very rights they fought for.
Using #VeteransForKaepernick, those who fought for American freedom stood with Kaepernick, who was using his constitutional rights to protest injustice. 
Aside from veterans, people used the hashtag to thank veterans and make jokes about how hard it would be for some to rectify their own thoughts on Kaepernick's protest with the way these veterans feel.  
The veterans are not alone. Kaepernick has garnered public support from stars like singer John Legend as well as criticism from football stars like Drew Brees and Jerry Rice. 
For his part, Kaepernick has said his protests will continue until he sees positive change for people of color in the United States. 
"Yes. I'll continue to sit," Kaepernick said. "I'm going to continue to stand with the people that are being oppressed. To me this is something that has to change. When there's significant change and I feel like [the American] flag represents what it's supposed to represent, this country is representing people the way that it's supposed to, I'll stand."