The 3 things models topping the 'Forbes' highest-paid list have in common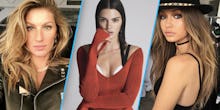 On Tuesday, Forbes released its list of the highest-paid fashion models of 2016 — and it's probably exactly what you expected. 
Gisele Bündchen holds the top spot, earning $30.5 million between June 1, 2015 and June 1, 2016, despite the fact that she retired from modeling last year. 
Then there's Adriana Lima in second place, earning $10.5 million. 
And then there's Kendall Jenner and Karlie Kloss, America's sweethearts, who earned $10 million each, despite Jenner being a modeling newbie.
After them, it's then a tie between Gigi Hadid and British model Rosie Huntington-Whiteley, who both earned $9 million pre-tax. 
So, let's look at the above pictures and see what these ladies have in common: They are all white. They are all cis. They are all straight-sized. 
It's a fact that even Forbes wasn't shy to point out. 
"Save for the likes of Jasmine Tookes and Liu Wen, the majority of the list is overwhelmingly white and entirely 'straight'-sized," Forbes reported. "This reflects the lack of inclusion on catwalks and in campaigns." 
In fact, as pointed out by the Fashion Spot, just three women of color made the list. Three. Their names are Joan Smalls, Jasmine Tookes and Liu Wen. 
But this should really come as no surprise. As the the Fashion Spot has shown time and time again with its diversity reports after each fashion week cycle and ad campaign diversity reports, the fashion world is still ruled by thin white cis women. 
For spring 2016 ad campaigns, for example, 78.2% of the models featured were white, with black models coming in at just 8.3%. In terms of fashion weeks around the world, this past February saw that models who walked were more than 75%  white, with just 9.22% of the models being black. 
Also of note: No male models made the ranking since they are paid far less than female models, as noted by Forbes. The last time Forbes ranked male models (in 2013), model Sean O'Pry topped the list with a mere $1.5 million. 
What's interesting as well is that Victoria's Secret Angels make up 30% of this list, showing just how powerful and transformative VS has become in the industry. All of the women of color who made the cut, for example, have walked for VS, which goes to show you just how much of a difference VS could make in the industry when it comes to giving these models more power. Imagine if they were ever to cast a plus-size model in their show, you know? 
So, even though curve and plus-size models like Ashley Graham and Denise Bidot are getting more exposure than they ever have before right now, and models of color like Joan Smalls and Jasmine Tookes are out there thriving, they're still not making the millions that their peers are making for essentially exactly the same work.