19 cows were killed by a lightning strike in Texas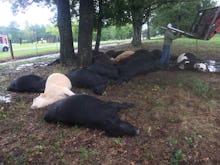 Days after a lightning strike claimed the lives of 323 reindeer in southern Norway, another strike killed 19 cows as they sought shelter under a tree Sunday in east Texas.
Witnesses told Texas NBC affiliate WSFA that a storm Sunday night outside Hallsville, Texas, was responsible for killing roughly a third of the herd owned by Ashley Anderson and her family. "It's not something you see every day," she told WSFA. "Just kind of surreal to see it."
Another witness said it happened instantly. When the lightning bolt hit the tree, "the cows just fell." But there's an, admittedly dark, silver lining: The Andersons say the dead cows were given to locals to use for meat. But besides cutting their losses, they won't cattle-farm any differently. "It's just a freak thing; I mean they were just staying out of the rain," Anderson told WSFA. "There's really, to my knowledge, nothing you can do to prevent this."
If you look at recent history, Anderson's statement seems to be true. In May, a lightning bolt killed 21 cows in South Dakota. In June 2015, a lightning storm killed 33 cows in Mississippi. In September 2014, lightning killed more than 60 cows in Chile. The month before, a farmer lost eight cows in Washington.
Considering that cows live in wide-open fields and tend to hide under trees, a farmer losing cows to a lightning storm seems to be a pretty common occurrence.