Peeps' new maple brown sugar-flavor smells like a candle, but we liked it anyway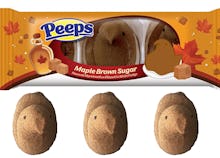 The teensy bird that is the Marshmallow Peep is a polarizing confectionary, to say the least. You are either Camp Peep or Camp Hell No, and rarely is there a palate that falls somewhere in between.
But the company's newest flavor, Maple Brown Sugar, which comes dipped in white fudge, may be the bird to break the mold. In other words, the people like it.
In a Mic taste test, all reviewers who had a pre-existing adoration for Peeps enjoyed the new flavor. The verdict: A real hint of artificial maple syrup makes the Peeps palatable, and the sugar grains and white fudge coating add a nice texture to the fluffy body. 
But even those in opposition of the bird softened up. "This tastes better than normal," said one brave Peeps sampler, after biting into the bird's tail. He then finished the remainder of the Peep. 
And yes, those who took a whiff before a bite decided that the candy smelled like a Yankee candle (as many fall-flavored products seem to do), the reviews were positive overall. 
Interested in a taste for yourself? Peeps' Maple Brown Sugar flavor will be sold exclusively in Target stores starting Sept. 4 for a limited time.