'Stranger Things' is coming back for season 2 in 2017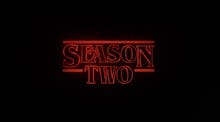 There's nothing strange about this: Netflix has formally renewed its wildly popular sci-fi series Stranger Things for a second season. According to Variety, the second season will feature nine episodes, which is one more than its inaugural season.
While the news was expected — why wouldn't Netflix renew one of its best-watched original series — sources told Variety that the second season "has already been underway for quite some time." 
In lieu of the announcement, the Stranger Things Twitter account shared a video in the style of its eerie opening credits, declaring "Season Two" in the show's Stephen King-esque title type.
The Twitterverse, and ever-passionate fans of all things strange — not to mention the growing population of Barb stans — promptly shared their excitement: