Hillary Clinton rolls out Donald Trump's greatest Twitter hits on Mexico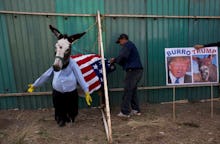 As Donald Trump heads south for a visit with Mexico's president, Hillary Clinton is taking Americans on a trip down memory lane, courtesy of Twitter.
The Democratic nominee on Wednesday morning rolled out a "big, beautiful list" of her GOP rival's scathing tweets about Mexico ahead of Trump's meeting with the nation's leader, Enrique Peña Nieto.
"Trump announced his campaign for president by calling Mexican immigrants 'rapists' and criminals ('and some, I assume, are good people,' he added generously)," the Clinton camp said as a "refresher" on the Republican's track record.
"Trump has been publicly disparaging Mexican immigrants — and the entire nation of Mexico — for years. And years. And years."
Clinton's reminder also comes as Trump prepares to deliver a major speech about immigration on the American side of the future U.S.-Mexico border wall he promises to build — on Mexico's tab.
It's a pile-on to the jeers he's fielded over his changing tone on his hard-line immigration stance.
Clinton's Trump tweet rundown begins in 2014 with a reference to former Marine Sgt. Andrew Tahmooressi, who spent months in jail in Mexico on gun charges:
And here are some more of the highlights:
Team Trump, in concert with the Republican Party, kept up its "Hiding Hillary" drumbeat, calling Clinton out for not having held a press conference in now 270 days.