2,000 people have died in a state-sponsored drug war in the Philippines since July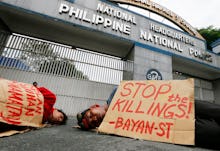 The number of state-sponsored extrajudicial killings continues to mount in the Philippines, where President Rodrigo Duterte's crackdown on the illegal drug trade has resulted in around 2,000 deaths in just two months, Reuters reported.
Data released on Tuesday by the country's National Police said that nearly 900 drug traffickers and users were killed in police stings in the period between July 1 and Aug. 20 — an average of 20 people a day.
Police also said that an additional 1,100 deaths were being investigated, despite not being a part of police operations in any official capacity.
Extrajudicial killings have plagued the Philippines ever since Duterte won the presidency on a bid to eradicate the country's illegal drug trade in May.
In response to appeals from human rights groups and allies to the country, including the United States, to stop the extrajudicial killings, Duterte has balked, threatening to pull the country from the United Nations, according to Reuters.
Duterte's communications secretary, Martin Andanar, said in a statement that the police killings were a necessary part of the state's effort to end the country's illegal drug trade.
"Some people abroad have to understand why many people are getting killed in the anti-drug campaign," he said. "They must understand, this is a war and there are casualties."
A lengthy CNN investigation in August revealed that despite Duterte's 91% "trust" rating in the country, residents of the Philippines are terrified of the measures he's taken to crack down on drug dealers and addicts.
Raffy Lerma, a photographer for the Philippine Daily Inquirer, told CNN that despite covering gory natural disasters with horrifying body counts, what he's seen during the course of the drug war has been worse.
"In this war we're also witnessing the devastation of these men's families. It's traumatizing," he said.
Bien Leabres, a drug addiction specialist who heads the largest rehabilitation center in the country, said that his facility has been "overwhelmed," by patients, who are in many cases checking themselves in to avoid the nightmarish possibility of police intervention.
"Most of them are here because of fear," he said. "The crackdown (has) made them fear that they will be incarcerated or even worse, killed."
While addiction has become a more visible issue, he said that he rejects the violent measures that have been taken to curb it.
"These people are victims," he said. "Not criminals. "