Can you afford to have a baby? Here's how much kids cost — and how to save up enough money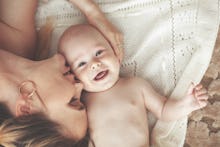 Biological clock starting to tick a little louder these days?
Take a hard look at your bank account before you start picking out onesies or decorating a nursery.  
Location can make a difference, but across the United States it costs the average middle-income family about a quarter of a million dollars to raise a child from birth through age 18, not even including education expenses, according to the most recent data from the U.S. Department of Agriculture.
Overall costs per year per kid can range from about $13,000 to $15,000 on average. That's a lot of dough.
While it's nearly impossible to truly prepare yourself for kids, financially or otherwise, there are steps you can take right now. Asking yourself these three questions can help you get ready, and take some of the sting out of the costs of a new family member — whether you're about to celebrate a birth or are still a few years away from baby o'clock.
Do I have a solid emergency fund?
If you're among the half of millennials who don't have an emergency savings account, now's the time to start building one. 
"If you are spending all your money now and not saving, it's only going to get harder when you have a little one," says Mary Beth Storjohann, finance coach and founder of Workable Wealth.
How will we pay for the medical bills?
Spend some time on your insurer's website now to avoid surprises later: Make sure you understand exactly how much of your medical costs will be covered via insurance and how much you could owe out-of-pocket. 
The average single person with an employer-based plan pays more than $1,000 in annual premiums and is still on the hook for about $1,300 out-of-pocket before hitting a deductible; someone with family coverage pays nearly $5,000 just in premiums, according to a 2015 Kaiser Family Foundation report.
Setting aside money in a tax-favored account such as a health savings account or a flexible savings account, depending on your insurance type, can help offset some of the out-of-pocket costs.
Also: Having a baby is a qualified life event that allows you to switch plans outside of the open enrollment period, so start investigating whether a new plan will better suit your needs after the birth.
What's our childcare plan?
Whether you're planning to stay-at-home parent or use a daycare or nanny, childcare will significantly impact your monthly expenses.
Assuming you aren't a single parent, communication with your partner about budgeting and sharing responsibilities is crucial to avoid conflict later.
"Have a conversation with your partner about what you expect your family life to look like," says fee-only financial planner Matt Becker, founder of Mom and Dad Money. "You may have different expectations, and it's good to get that out in the open."
Whichever path you choose, you can prepare for it financially by test driving your new budget now.
That could mean scaling back on expenses — to practice living on one income — or setting aside the cost of childcare each month now. You can figure out rough estimates of what you'll need by calling daycares in your neighborhood or checking websites like Care.com.
Bonus: Any money you set aside now can help beef up that emergency fund.