Looking for healthy, cheap food ideas? Here's how to eat well on a budget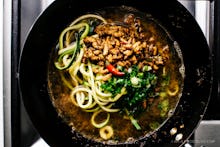 Eating healthfully and eating on the cheap can sometimes feel impossible. Kale salads can cost $12, hormone-free meat almost always carries the higher price tag and buying fresh produce is oftentimes more daunting to your wallet than just picking up a box of Applejacks. 
The good news for shoppers (not so much farmers) is that grocery prices continue to fall, as the Wall Street Journal reported, so now is the time to break your takeout habit and start making your own healthy food.  
You can mix and match these breakfast, lunch and dinner recipes for days of eating well without breaking your budget. Note that most of these recipes have more than one serving, so you're all set for leftovers or splitting the grocery bill.
Breakfast
Carrot sunshine smoothie
Skip the fancy smoothie spot and make your own (frozen) fruit and veggie smoothie at home. Use the recipe as inspiration, not a strict guide. Get the recipe here.
Healthy chocolate-chip avocado muffins
Basically a hybrid of avocado toast and breakfast muffins, these morning treats are cheaper to make than any baked good you can grab at your local cafe. Plus, they're made with oat flour, applesauce and other hidden healthy ingredients. Get the recipe here.
Lunch
Greek wedge salad
Those adverse to chopping their own salads can skip a step with this healthy wedge. Add some chickpeas on top for cheap protein. Get the recipe here.
Salad jars
How many salad jars do you have to pin before you actually make one? Invest in a week's worth of jars and you'll be inspired to create healthy, and yes, fun, meals ready to grab and go in the morning. Get the recipe here.
Walking banh mi
This is really a salad in a parchment cup, but the name makes it cute enough to cost a lot at your trendy neighborhood banh mi spot. Instead, make the vegetarian pickled non-sandwich yourself. Perfect for lunch on the go. Get the recipe here.
Dinner 
30-minute healthy broccoli cheese rice
Step away from the Rice-a-Roni and take half an hour to make this fresh and healthy version of cheesy broccoli rice. Get the recipe here.
Lasagna stuffed peppers
Instead of a pasta-based lasagna, consider a veggie based lasagna with some pasta (well, orzo) in it. These stuffed peppers are a cinch to prepare and seriously tasty. Get the recipe here.
Crispy roasted potato wedges with squash, lentils and goat cheese
Think of this as your healthy poutine solution. A pile of potatoes layered with veggies and cheese? YES. Swap in a cheaper cheese if you don't want to splurge for goat cheese. Get the recipe here.
Dan Dan zucchini noodle soup
This Chinese noodle dish is lightened up with spiralized zucchini noodles and the flavorful broth will keep your stomach satisfied all night. Get the recipe here.