Ohio laws intended to protect women actually made abortion more dangerous, study finds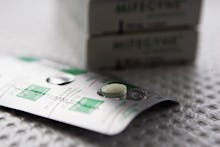 News flash: Laws that restrict women's access to abortion don't actually do anything to decrease abortion rates — but they do make abortions more expensive and difficult to access.
Now, a new study of more than 2,700 patients in Ohio, published in the Public Library of Science journal PLoS Medicine, revealed one state law restricting access to the "abortion pill" has actually been linked to a spike in women's health care issues. 
According to the study, thanks to a law restricting women's access to mifepristone, the drug used to induce medical abortions, patients who had medical abortions in Ohio were more likely to face higher costs and side effects like nausea and vomiting, or require a follow-up procedure if initial treatment failed. 
"In many cases, patients needed an in-clinic [abortion] procedure," Ushma Upadhyay, the study's lead author, said in a phone interview. "Which was the very thing they were trying to avoid. ... I would say it compromised their health."
In 2011, Ohio legislators implemented a law requiring doctors to prescribe medical abortion pills, usually misoprostol and/or mifepristone, based on official FDA guidelines and the original drug label, Time reported. 
That's not the standard procedure for most drugs, since official FDA guidelines take years to update, a system that Upadhyay called a "very political process." The official FDA guidelines were also outdated, which Upadhyay said put some patients' health in jeopardy. 
For instance, "the original FDA protocol," as dictated by the 2011 Ohio law, "was a much higher dose of the first medication [mifepristone] and a lower dose of the second [mileprostol]," Upadhyay said. "Now we know it should be flipped.""
Nationwide, the medication can be safely used up to 10 weeks after conception, according to Planned Parenthood. But in Ohio and states like Texas and North Dakota, which also adhered to the outdated FDA guidelines, women were only allowed to take the pills for up to seven weeks, thus restricting their access to medical abortion. 
"I don't know any other state law that prohibits off-label use of any other medication," Upadhyay said. "It's likely [Ohio lawmakers] knew a lot of women would be ineligible after the law." 
Upadhyay also said that the restrictions on medical abortion likely disproportionately affected low-income women, who "are less likely to know they're pregnant" within the seven-week time frame. 
Overall, the study said patients who had medical abortions in Ohio were three times more likely to need "additional intervention," such as a second round of the same medication or a more invasive procedure, compared to patients during the "prelaw period." 
The study also showed that the overall rate of medical abortions declined as costs and complications rose. Women were also "significantly more likely" to experience negative side effects, such as nausea and vomiting, as a result of having a medical abortion. 
The fact that a law intending to protect women ended up doing the exact opposite isn't exactly that surprising. Studies by the World Health Organization show restrictive abortion laws don't keep people from getting abortions, so much as they push women to try other, often far more dangerous methods of terminating pregnancy. 
"Because these three states [Texas, Ohio and North Dakota] have these laws, women will be stuck in time and not be able to take advantage of new clinical research," Upadhyay said.