The iPhone 7 will come with an important accessory, this alleged photo reveals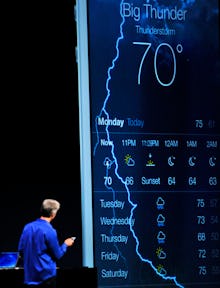 Apple is expected to unveil the iPhone 7 at its media event exactly one week from Wednesday, but that isn't shutting down the rumor mill just yet. A newly leaked photo suggests the iPhone 7 will have a key accessory included for its release.
An image of purported iPhone 7 packaging contains some very intriguing text. In addition to the long-rumored Lightning earpods that would plug right into the iPhone's charging port, Apple is allegedly including a Lightning to headphone jack adapter as a bundled accessory. 
This is another sign that Apple will remove the audio jack from the iPhone 7, forcing buyers to use wireless headphones, plug their existing headphones into the Lightning port using an adapter, or get headphones that plug straight into the Lightning port.
Apple's inclusion of the headphone jack adapter is quite surprising. Typically, Apple sells various adapters separately since they're not necessarily required to operate the iPhone or its features. The company is notorious for pinching pennies — the death of the standard 3.5 mm headphone jack to force consumers to use Apple's exclusive Lightning jacks is a prime example — but for once, it seems like Apple is actually doing its customers a favor.
If confirmed, iPhone 7 and the iPhone 7 Plus buyers will be able to connect their traditional earbuds to the new device without having to spend additional money on an adapter. It's a smart move, as the adapter's inclusion could prevent alienating iPhone users satisfied with their regular headphones.
Hopefully this rumor is confirmed at Apple's press event on Sept. 7. Mic will keep you updated.