Who is Baylee Curran, alleged Chris Brown victim, and why is Twitter tearing her apart?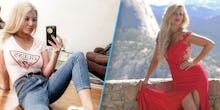 Chris Brown added another arrest to his growing rap sheet after police took him into custody on suspicion of assault with a deadly weapon Tuesday. The accusation came from model Baylee Curran, who had been visiting Brown's house along with an invited male friend. 
Curran was reportedly there to talk about appearing in Brown's music video. The actress, model and pageant queen has enjoyed moments in the limelight in the past. She's appeared in films such as Cold Blooded and The Prodigal Son. In 2016, she defeated 15 other women to win the title of Miss California Regional, though was later stripped of it after nude photos of her surfaced. She also allegedly has a warrant in New York for questioning about a grand larceny.
On Tuesday, Curran called the police after Brown allegedly brandished a weapon in her face — something that he, being a convicted felon, is not legally allowed to possess. As soon as Brown was arrested and the details began coming to light, Curran found herself a target of Twitter's ire, with fans of the R&B star digging up everything they could about Curran and taking issues with the details of her story. 
According to Curran, trouble began when she approached a man selling diamond watches and necklaces in Brown's kitchen. Curran admired one of the necklaces, when another man told her she needed to leave.
"And that's when Chris Brown kind of went off off, pulled out his gun and said, 'Get the F out,'" Curran told E! in a phone interview, according to NBC. "He was saying, 'Get the F out.' Like, 'Haven't I told you guys enough,' and he was kind of threatening me with the gun, like he's gonna shoot me with it if I don't get out."
She fled the scene, but returned when she realized she'd left her wallet and purse, whereupon Brown's people tried to get her to sign a nondisclosure agreement. She refused, ran and hid under a truck when she saw Brown's friends chasing her.
Not helping the validity of her story with Twitter is the fact that she has a warrant in New York City for allegedly stealing a $1,000 Louis Vuitton purse.
According to TMZ, Curran had been vacationing in New York and was staying at the Plaza when she snatched a friend's purse during an argument. Security chased Curran and she dropped the purse, but made off with the purse's contents, which included $200 in cash, as well as credit cards and a Michael Kors wallet.
Curran was reportedly unaware she had this warrant to her name before coming forward, according to her representative. Yet the charge has now landed her with a retaining order from an LA judge.
Her Instagram is similarly filled with venomous attacks from Chris Brown defenders.
Despite all this backlash, Curran seems to be having some fun playing with the story. Tuesday, she updated her Instagram bio to read "Yes Chris Threatened Me."
It's since been changed back to "2016 Miss California Regional Actress Equestrian."