Indiana lead poisoning: East Chicago residents forced to leave over dangerous lead levels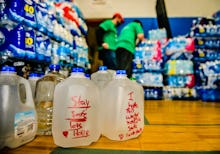 The extraordinarily high levels of lead in the water in Flint, Michigan, attracted national attention earlier this year. Now, hundreds of residents in East Chicago, Indiana, are leaving after discovering that the soil around their homes contains dangerous levels of lead.
The Environmental Protection Agency found that the West Calumet Housing Complex has registered lead concentrations in the soil that are beyond 1,200 parts per million, according to the Times of Northwest Indiana. Upon learning that "hundreds of children suffer from excessive levels of lead in their blood" after performing preliminary tests, Mayor Anthony Copeland later announced that residents will be moving from the housing complex.
"Now that we know the levels of lead in the ground in the West Calumet Housing Complex, we feel it is in your best interest to temporarily relocate your household to safer conditions," the mayor wrote in July. Around 1,000 residents, including nearly 700 children, will have to be relocated.
Shantel Allen, a five-year tenant of the West Calumet Housing Complex, told the New York Times that all of her children were tested and found to have high levels of lead in their bodies. 
"They show all the signs and symptoms of lead poisoning — they vomit randomly, have headaches," Allen, 27, told the Times. "Nobody's given us any advice other than 'give them foods high in iron.'"
East Chicago, Indiana, is just one of the many cities around the nation with dangerously high levels of lead that is facing challenges of unclean water. Here are a few:
St. Joseph, Louisiana
Residents in St. Joseph, Louisiana, have been facing challenges with their water supply for 10 years. This predominantly black town with a population of nearly 1,200 people has been under a consistent water boil advisory since 2012.
"It's been like this for 10 years," Rebecca Vizard, a resident of St. Joseph, said in an interview. "You can't wear white clothes because if you wash your white clothes, the water turns them tan or beige. All of the toilets, sinks in town are stained brown."
Galesburg, Illinois
According to the Register Mail, the city of Galesburg, Illinois, has been facing issues of lead in the water since 1992. While 22 of the previous 30 tests resulted in high levels of lead, Galesburg mayor John Pritchard recently announced in June that the water now meets the federally recommended standards. 
"We are going beyond state and federal guidelines to track, manage, and ultimately eliminate lead from entering any Galesburg home or business in their water" Galesburg Mayor John Pritchard told WQAD-TV. "Our expanded initiatives to obtain state and federal funding to accelerate the removal of these privately-owned lead service lines, and conduct an in-depth lead corrosion control study show the city's commitment to finding effective, short and long-term solutions that will benefit Galesburg and beyond."
Despite the fact that the Galesburg water may meet the federally recommended levels of lead now, the long-term exposure to lead may have already caused chronic problems for its residents. According to the Chicago Tribune, about 170 other public water systems in Illinois have had results with exceptionally high levels of lead. 
Pittsburgh, Pennsylvania
Earlier this month, Pittsburgh's Water and Sewer Authority sent a letter to more than 80,000 customers detailing elevated lead levels in the water system, according to Colorlines.
"PWSA has already started water quality parameter monitoring, source water monitoring, public education, and lead service line replacement and is evaluating the effectiveness of corrosion control treatment and will continue these measures," the letter, no longer available on the website, reportedly said. "PWSA will also continue to cooperate with [the Department of Environmental Protection] and the Allegheny County Health Department." 
While the levels of lead in the water are troublesome, Virginia Tech professor Marc Edwards doesn't believe it will result in another water crisis like the one in Flint.
"The levels in Pittsburgh are comparable to those reported in Flint," Edwards, who studied Flint's water crisis extensively, told WPXI News. "I don't think you have a Flint on your hand, but those levels are worrisome."
Sebring, Ohio
In December, the small village of Sebring, Ohio discovered unsafe levels of lead and copper in the tap water. James Bates, the water treatment operator in Sebring, was facing a criminal investigation conducted by the Ohio Environmental Protection agency.
According to CBS News, Bates was to have his operating license revoked for "endangering the public" and for submitting "misleading, inaccurate or false reports."
Although the Ohio EPA told the village of Sebring about the issues in December, residents weren't told about the rising lead levels until January. 
"It has become apparent that our field office was too patient in dealing with the village of Sebring's 'cat and mouse' game and should have had closer scrutiny on the water system meeting its deadlines," Ohio EPA Director Craig Butler said in a press release.