Report: Donald Trump's campaign CEO under investigation for possible voter fraud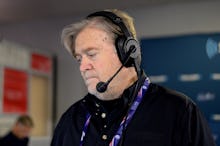 Steve Bannon, Donald Trump's newly minted campaign CEO, is under investigation by Florida prosecutors over his voter registration in the Sunshine State, NBC News reported Wednesday morning.
Last week, the Guardian reported that Bannon was registered to vote at a vacant house in Miami-Dade County, Florida — a potential violation of election rules in the state, which stipulates that a voter must swear to be a legal resident of the county in which they're registered to vote.
A spokesman for the Miami-Dade state attorney did not confirm to NBC News that Bannon was under investigation.
"As a prosecutorial agency, we investigate all potential crimes brought to our attention," Ed Griffith, the state attorney's spokesman, told NBC News. "If it was brought to our attention we would certainly review any potential crime to see if it is indeed a crime or an administrative violation."
However an executive assistant in the state attorney's office appeared to confirm the investigation.
"I know that there is an investigation but I know very little about it," Rosy Pastrana, the executive assistant to the Miami-Dade county election supervisor, told NBC. "They requested voter records for him, which is why I know there is an investigation going on."
But Pastrana told NBC that there appeared to be no evidence that suggested Bannon did anything wrong, adding that he never actually voted in Miami-Dade County since registering to vote there in 2014.
Before joining Trump's campaign, Bannon led the ultra-conservative Breitbart News website — which crusades against voter fraud.
Bannon did not return comment from NBC News over the investigation.