Queen Patti LaBelle will bless the world with 5 more desserts at Walmart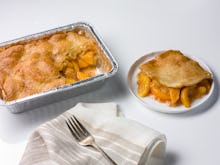 Patti LaBelle is arguably more famous for her desserts than her voice these days: The legendary singer pretty much broke Walmart in 2015 with her viral sweet potato pie line made viral by James Wright's YouTube video. The pie sold at a rate of one pie per second for 72 hours straight, the Chicago Tribune reported.
Now she's hoping to replicate the success with not one, but five new desserts exclusively available at Walmart, according to People. 
LaBelle will sell peach, berry and apple cobblers as well as an apple pecan cake and a sweet potato loaf under the Patti's Good Life label, the Chicago Tribune wrote. And considering that all the products are $10 or less, consumers may be more willing to shell out cash to live the good life.
One thing's for sure: If the new products are anything like LaBelle's Sweet Potato Pie, a certain someone will be singing their praises.
Novice and non-bakers should be put at ease: The cobblers are pre-baked, which means all you have to do is put them in the oven to warm them up. "You can even lie and say you made them," LaBelle told People. Generous.
As far as pre-packaged desserts go, Patti's Good Life line doesn't appear to be as processed as other treats. The Chicago Tribune noted that 6.4 million pounds of peaches apparently went into the cobblers, which come packed with fruit. 
So do Patti's new desserts hit a high note taste-wise? The cobblers for the most part, impressed the Chicago Tribune, especially their "enjoyably crisp and buttery" crusts. The Washington Post also gave the cobblers a positive review, noting they were "enticingly bubbling around the edges" when re-heated in an oven. They found the fillings to be too sweet, though. 
Still, given the price point (each cobbler is jut $6.98), customers will likely sing her praises. The cobblers and cakes will be sold in stores starting Sept. 2. The sweet potato cakes are only available in the Northeast.