Here's what Donald Trump would actually need to do to build his U.S.-Mexico border wall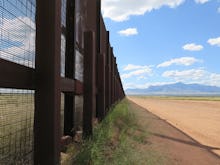 In another twist of 2016, Donald Trump will visit the Mexican president hours before he will give a Wednesday night speech on immigration. Enrique Peña Nieto invited Trump and Hillary Clinton to visit Mexico last week and the Republican nominee quickly accepted. 
Building a wall along the United States' southern border, one of Trump's signature policy proposals, will likely surface both in his meeting with Nieto and in his Wednesday night immigration speech. Chants of "Build a wall!" have echoed throughout Trump rallies since last year. Trump frequently asks supporters who will pay for the wall, to which crowds roar in response: "Mexico!" 
But Mexican leaders disagree. In July, Nieto told CNN there was "no way" Mexico would pay for a barrier along the nearly 2,000 mile U.S. / Mexico border. Former President Vicente Fox went further, saying, "I'm not going to pay for that f*cking wall." He later apologized.
If Trump doubles down on his wall proposal and is elected, here's what building the wall would actually require. 
Scale
The border with Mexico and the realities that go with it are yuge, as Trump might say. The nearly 2,000-mile border is already protected by about 670 miles of barricades. This mix of fences, metal bars, glass walls and other barriers cuts through backyards and the middle of urban areas. It also cost $2.4 billion and took three years to build. 
The calls for a wall come in response to the hundreds of thousands of people who enter the U.S. through its porous border. Between October 2014 and September 2015, more than 331,000 people were apprehended by the Border Patrol along the U.S. southwestern border. Between September of last year and January 2016, more than 20,000 children alone have been caught attempting to illegally cross the border. 
Building the wall would require massive numbers of people and materials. In 2009, a New Mexico contractor bid on construction of a 38-mile stretch of wall at 19 feet high near El Paso, Texas. The company spent four months and $170 million to erect that stretch of wall with 1,110 people and 600 pieces of equipment. Construction in remote desert or mountainous stretches of the border would be even more difficult and costly. 
Cost
If Trump hopes to erect barriers along the entire southwestern border, it is likely to cost billions of dollars and take several years. 
The Government Accountability Office said in 2009 that the average mile of fencing would cost an average of $3.9 million per mile. By that measure, finishing the barricades would cost at least $5 billion. But it's likely to be much higher. Trump himself has said the wall would cost $10-$12 billion. The Washington Post Fact Checker said the cost could rise as high as $25 billion. And none of these figures take into account the millions of dollars in annual maintenance the wall would require. 
In keeping with his message that Mexico will pay for the wall, Trump told the Post in March that he could use a provision in the Patriot Act to force Mexico to pay the U.S. $5-$10 billion toward the cost of the wall. But Mexican leaders have repeatedly said they will not acquiesce to Trump's demands.