One London man wants to know if we can ban men in suits instead of women in burkinis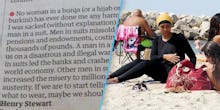 While France continues to enforce its ban on the burkini — shorthand for "burqa" and "bikini" — one man is proposing a ban on a different article of clothing: suits.
In a letter to the editor of the Guardian, Londoner Henry Stewart cleverly eviscerates the anti-Muslim argument against burkinis by pointing out that the women wearing them have never harmed him personally, but men in suits have.
"No woman in a burqa (or a hijab or a burkini) has ever done me any harm. But I was sacked (without explanation) by a man in a suit. Men in suits missold me pensions and endowments, costing me thousands of pounds," the thoroughly British letter says.
"A man in a suit led us on a disastrous and illegal war. Men in suits led the banks and crashed the world economy. Other men in suits then increased the misery to millions through austerity. If we are to start telling people what to wear, maybe we should ban suits," Stewart added. 
French police's enforcement of the sartorial ban has been gruesome: In late August, an officer was photographed demanding that a woman remove her burkini on a beach in Nice.
Although Islamophobic attitudes persist all over the world, Stewart's letter drew tons of support on Twitter — proving that not everyone feels the same way.