Protesters stake out Brock Turner's Ohio home, await his arrival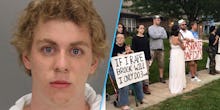 While Santa Clara County, California, Judge Aaron Persky may have looked kindly on Brock Turner, the 21-year-old — who sexually assaulted an unconscious woman behind a dumpster in 2015 — is not faring so well in the court of public opinion. 
Turner was released from prison Friday after serving three months of an already light six-month sentence. When he returns home to Ohio, he will be greeted by protesters, some of whom are armed, according to ABC. 
"He's just not welcome," Molly Hardin, one of Turner's neighbors, told CBS.
"He's not gonna live some happy, pleasant life," one protester told WHIO in Dayton, Ohio. "We're going to never let him forget what he did." 
"If he is uncomfortable, then he begins to receive at least some punishment that he deserves for his crime," another added.
In March, a jury unanimously found Turner guilty on three counts of sexual assault: intent to commit rape of an unconscious person, sexually penetrating an unconscious person with a foreign object and sexually penetrating an intoxicated person with a foreign object. In June, Persky gave Turner six months behind bars, arguing that prison time would have a "severe impact" on the young man and his then-promising future as a swimmer. 
The case sparked outrage and calls for Persky's removal that still haven't quieted — prosecutors requested a six-year sentence, while the maximum would have been 14 years. 
"If the justice system failed him [Turner], then the community will not," one protester told WCPO. "We know what he did, and we're not going to forget." 
There are about a dozen protesters gathered in Sugarcreek Township where the Turners reside, WCPO reported. They have chalked threatening messages — "Shoot your local rapist," for example — on the sidewalks surrounding his home and are carrying signs with similar language such as, "Castrate all rapists." 
While police are keeping an eye on the scene and on social media, Greene County's sheriff has promised that law enforcement won't be "treating him with kid gloves." 
"We're going to treat him like every other sex offender that comes through the doors," Gene Fischer told WHIO. 
When Turner reaches Ohio, an open carry state, he will have five days to report to the sheriff's office and register as a sex offender, ABC reported. He reportedly checked into a hotel Friday night in Mountain View, California, leaving Santa Clara County jail that morning, and it is not yet known when he will return home. 
According to gossip site TMZ, though, Turner's parents are concerned for their son's safety and have asked local police to help them handle the protesters. As WHIO reported, safety is central to the protesters' concerns as well: "Its [sic] your job to hold your son/self responsible so he/you don't hurt my daughters," reads one of the sidewalk messages.