There are rumors about a 'Cursed Child' film — and 'Harry Potter' fans are extremely upset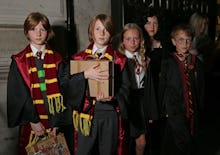 Accio more Harry Potter movies! On Wednesday, the New York Daily News reported that Warner Bros. may or may not be planning for a film version of Harry Potter and the Cursed Child, the Harry Potter sequel that debuted as both a play in London's West End and a book this summer.
The Daily News cited unnamed "tinseltown sources" who allegedly said Warner Bros. wants a movie version of the latest Harry Potter installment as early as 2020, and that the first choice to play Harry Potter is Daniel Radcliffe, of course.
As fun as it would no doubt be for Radcliffe to resurrect a role he's spent his adult career trying to put behind him — Equus, anyone? — the Evening Standard reported Warner Bros. was shooting down the rumors, and had released a statement saying there are "no plans" for a film version of Cursed Child.
"Harry Potter and the Cursed Child is a stage play, with no plans for there to be a film," the statement reportedly said.
Even if the rumors aren't true, it hasn't stopped Harry Potter fans from reacting to the prospect of a Cursed Child film — and it turns out, they're really, really upset about it.
Like, really upset.
Since Warner Bros. has flat-out denied the possibility of a Cursed Child film, no one has to throw themselves into the sun — yet.