Here's how Donald Trump's immigration policy went from extreme to extremely confusing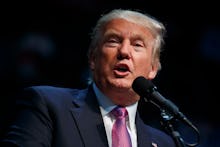 Republican presidential nominee Donald Trump is visiting Mexico on Wednesday just hours before his major policy speech on immigration in Phoenix. But after "softening" his stance on mass deportations, many voters and political pundits are still confused about where exactly he stands on immigration.
In announcing his run for the presidency last year, Trump made headlines for insinuating that illegal Mexican immigrants were "rapists."
"When Mexico sends its people, they're not sending their best. They're not sending you. They're not sending you. They're sending people that have lots of problems, and they're bringing those problems with us. They're bringing drugs. They're bringing crime. They're rapists. And some, I assume, are good people," he said, according to a transcript of his speech.
He also declared that he would build a wall along the border of Mexico, something he continues to say he will do if elected president. And he says he will get Mexico to pay for that wall.
"It's an easy decision for Mexico: Make a one-time payment of $5 to 10 billion to ensure that $24 billion continues to flow into their country year after year," he explains on his campaign website.
From there, though, his policies on immigration have been difficult to nail down. During the Republican primary, he proposed a ban on all Muslims from entering the United States. He's since parsed that idea, explaining that it would be temporary.
He then backed away from a complete ban, telling voters during a speech in Ohio earlier this month that he would conduct "extreme vetting" of anyone entering the country from a nation that supports terrorism.
"We should only admit into this country those who share our values and respect our people," Trump said. "In the Cold War we had an ideological screening test. The time is overdue to develop a new screening test for the threats we face today. I call it extreme vetting. I call it extreme, extreme vetting." "Our country has enough problems, we don't need more."
Trump had also called for mass deportation of illegal immigrants. But earlier this month, he told Fox News' Sean Hannity that "there certainly can be a softening" of that policy. Then, just days later, he told CNN's Anderson Cooper, "I don't think it's a softening. I've had people say it's a hardening, actually."
Even his son, Donald Trump, Jr., insisted that he wasn't changing his stance on deportations. "He wasn't softening on anything. He didn't change his stance on anything," his son told CNN this week. But he said the policy would require "baby steps."
Trump met with Hispanic leaders earlier this month. His campaign manager Kellyanne Conway said his immigration policy is "to be determined."  
"From the first days of his campaign, Donald Trump has painted Mexicans as 'rapists' and criminals and has promised to deport 16 million people, including children and U.S. citizens. He has said we should force Mexico to pay for his giant border wall.  He has said we should ban remittances to families in Mexico if Mexico doesn't pay up," Hillary for America communications director Jennifer Palmieri released a statement on Tuesday. "What ultimately matters is what Donald Trump says to voters in Arizona, not Mexico, and whether he remains committed to the splitting up of families and deportation of millions."  
Supporters and critics will be watching his speech on immigration Wednesday to see if Trump tweaks any part of his policy. In the meantime, the GOP candidate tweeted on Tuesday that he was still in favor of building a wall on the Mexican border.