Xbox One S reviews roundup: Is it worth the upgrade from Xbox One?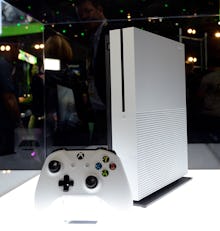 The Xbox One S release has gamers wondering if the new console is worth the upgrade. On the surface, the Xbox One S is significantly more attractive and compact than its predecessors, and its updated hardware boasts HDR, Ultra HD Blu-ray and 4K streaming video capabilities. But does the Xbox One S actually deliver in execution?
Here's what the critics are saying:
"The [Xbox] One S is simply a very, very good console that works like a modern streaming and gaming box should," writes Dieter Bohn for the Verge, though he argues the console's release suffers from some ill-advised timing. With yet another, even more powerful Microsoft console coming next year, Bohn believes it's difficult to justify buying the Xbox One S, saying it's only really "for people who just can't wait."
TechRadar's Nick Pino is also a fan of the Xbox One S' technological upgrades, declaring the console is "the pinnacle of what Microsoft set out to create three years ago." That being said, Pino still feels there's room for improvement — the Kinect feature (which shipped with the original Xbox One) is sorely missed, and there's concerns about the console's impact on the gaming community. "Now the Xbox userbase is slightly fragmented," he writes, arguing that the Xbox One S' visual upgrades will lead to conflicted conversations about the true quality of games.
Engadget praises the Xbox One S, but with a critical tone. "Unless you own a fancy new display or have one earmarked for the future, there's no reason to upgrade from your existing Xbox One," Timothy J. Seppala writes. He lists the sleek design and UHD Blu-ray capabilities as pros, but a lack of a 4K TV renders the console useless, in his eyes. Seppala said the console "feels like a worthy successor to the older Xbox 360," rather than its actual predecessor, the Xbox One.
Overall, the Xbox One S appears to be a great system — but also perhaps an unnecessary one. For those who never purchased the original Xbox One, the console might be worth the investment. The Xbox One S is currently available for $299 (500GB hard drive), $349 (1TB) or $399 (2TB).