Affordable wine and cheese pairings that'll class up any party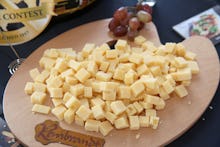 There is no better duo than wine and cheese. Peanut butter and jelly, bread and butter and lox and cream cheese could all break up and leave it to wine and cheese to rule the world of food coupledom. Though both wine and cheese can get pricy, there are still plenty of plenty wines and cheeses you can eat with out breaking the bank. 
Adam Goddu, Associate Director of Murray's Cheese, i.e. dairy heaven on New York's Bleecker Street, shared his wisdom to lass up your next party and spare your wallet with these affordable wine and indulgent cheese pairings. 
2013 Domaine de Brau 'Pure' Cabernet Sauvignon with Langres
"Langres is traditionally served with Champagne but this juicy Cab will go nicely with the meaty, earthy notes of the cheese," said Goddu. 
Wine: $10 at Astorwines.com 
Cheese: $12.99 for 6oz at MurraysCheese.com
2014 Scantianum Red Maremma with Grana Padano 
Pair pieces of nutty, crumbly Grana Padano against the ripe fruit and strong tannins of this Tuscan red. A block of this cheese isn't crazy cheap, but a little goes a long way.
Wine: $8 at AstorWines.com
Cheese: $12.99/lb at PastaCheese.com
2015 Buitenvervachting Beyond Sauvignon Blanc with Triple Crème Brie
This sweet, mushroomy cheese — called a "butter bomb" at Murray's — works well against the bright South African white wine full of citrus and grassy notes. You can splurge on fancy brie or go with the grocery store version, your friends will be fine with it. 
Wine: $7.95 at EmpireWine.com
Cheese: Président Triple Crème Brie, grocery stores or $11.49/lb on Amazon.com
2012 Ch. de Brague Blanc, Bordeaux Supérieur with Burrata
This crisp, clean Bordeaux blend of Sauvignon Blanc and Semillon is a "beautiful contrast to the decadent, creamy burrata," Goddu said. 
Wine: $10 at AstorWines.com
Cheese:  $11.99 for two 4oz orbs at MurraysCheese.com
2014 Colonia Las Liebres Bonarda Clasica with Blue Cheese
"Sharp, spicy blue cheese needs something with some back bone to keep it in balance," Goddu said. "This red is made with Bonarda which is a grape originally from Italy." The woodsy, dense structure of the wine, which also has a bit of spice and plenty of ripe red fruit, compliments the cheese. 
Wine: $10.99 at DrinkUpNY.com
Cheese: $9.99 for 7.5oz at igourmet.com