Frank Ocean releasing 'Blonde' independently has paid off in a big way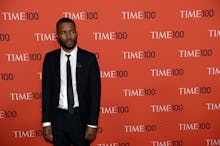 The wait for Frank Ocean's third album has paid off in a huge way for the R&B prodigy, both critically and commercially. Now that the album is out, and the dust has begun to settle, we're beginning to see just how much Ocean will bank from its release.
As reported last week, the back-to-back release of Blonde and Endless was more than a product of his inexhaustible artistic energies — it was a brilliant business decision as well. Going into the releases, Ocean had a three record-deal with record label Def Jam, which he fulfilled by releasing a 45-minute visual album, Endless. 
That means Blonde, released two days later via Apple Music, was able to be released independently, and according to a report from Forbes, that earned him around $1 million in the album's first week — even after subtracting marketing costs. 
For context, per Forbes, Ocean would have been owed around half that — $550,000 — for the same number of sales (276,000 units) if Blonde had been released by Def Jam under the terms of his old deal.
Universal Music Group — the parent company of Def Jam — may have grounds to sue the artist for this deft sleight of hand. But as of August 24th the company had no plans to do so, according to Billboard.
Going independent isn't always the best route, however. As Forbes noted, without UMG's distribution help, it's unlikely the album will sell a lot of physical copies, which could hurt Ocean's revenue. But considering the praise — and early response — for Blonde, he won't really be struggling that much. Frank's already sitting on oceans of cash.