Michel Temer, Rousseff's replacement as Brazil's president, has his own corruption issues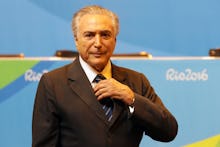 After Wednesday's impeachment of Brazilian President Dilma Rousseff, the country has inherited a new leader until the current term ends in 2018: Michel Temer.
So far, it looks as though the center-right Temer, who formerly served as Rousseff's vice president, has his work cut out for him. 
In addition to inheriting an anemic economy, a country plagued by the Zika virus and a fundamentally mistrustful populace, his term will share another similarity with his predecessor's in that it, too, is already associated with a major scandal.
While the Brazilian Senate found Rousseff guilty of using money from state banks to cover glaring deficits on the country's budget sheets, Temer's name has been mentioned in the same breath as the infamous Petrobras scandal, a massive bribery scandal involving kickbacks from money illegally skimmed from the state-run oil company.
According to Reuters, specific accusations against Temer allege he knowingly conspired directly with Petrobras executive Sergio Machado in order to line up campaign donations from the ill-gotten Petrobras contracts.
A member of the centrist Brazilian Democratic Movement Party — who, according to the New York Times, is frequently compared to a "butler in a horror movie" by his political rivals for his creepy countenance — Temer is problematic for more than just the corruption scandal that comes attached to his name.
After becoming Brazil's acting president in May, he set about naming his official cabinet, which ended up including nothing but white men "in a country that is more than 50% nonwhite," according to USA Today.
In addition to criticisms about its diversity, Temer's cabinet has also been prone to scandal: Three of his cabinet members resigned after just one month, following accusations related to the Petrobras ordeal.
Despite the controversy surrounding him, Temer is now the leader of the nation with the eighth-largest economy in the world — one that many worry is on the brink of disaster.