Hawaii's Big Island has never been hit by a hurricane — but now 2 storms are on their way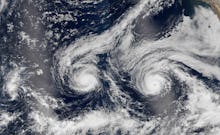 The first hurricane to hit Hawaii's Big Island in recorded history may be about to make landfall, and there's another one right behind it, KHOU reported Wednesday. 
According to the Associated Press, Hurricane Madeline, currently a category 1 storm, is scheduled to pass "just south" of the Big Island on Thursday, but could shift slightly to the north and hit land instead. Hot on Madeline's heels is Hurricane Lester, which may be downgraded to a tropical storm by the time it reaches Hawaii, meteorologist Chevy Chevalier told the AP. 
The last time a hurricane hit the state of Hawaii was in 1992, Chevalier said. It hit the island of Kauai. 
On Tuesday, Hawaii Governor David Ige signed a "pre-landfall emergency proclamation" to prepare for both storms, according to an announcement from his office.
Hurricanes and tropical storms are both rare in Hawaii, because "the Pacific Ocean water around Hawaii is generally a little cooler than the Caribbean Sea and often doesn't supply the energy hurricanes need to thrive," the Washington Post reported in 2013. 
This week, Hawaii residents are preparing to hunker down and wait out the storms.
"Hopefully our roofs stay on, and our houses don't float away or get blown away," Mitzi Bettencourt, a resident of the Big Island, told the AP. "It's like, 'Oh my God, are we going to get flattened or what?'"