The new iPhone 7 price breakdown just leaked — here's how much it's expected to cost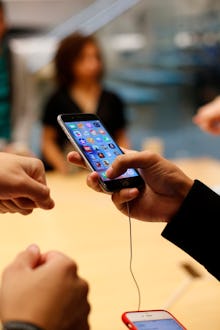 What's the price of the new iPhone 7? How about the iPhone 7 Plus? We've finally got (alleged) answers in the form of a leaked price breakdown. Apple's announcement and release date for its next devices are getting agonizingly close, and it's time to start crunching the numbers to figure out whether the iPhone 7 is worth buying, given all the rumors and specs we're aware of. 
Here's the list, which comes to us via Phone Arena.
iPhone 7
• 32GB: 5,288 yuan ($790)
iPhone 7 Plus
• 32GB: 6,088 yuan ($910)
Big disclaimer: Since the figures above were originally listed in Chinese yuan and then converted to U.S. dollars, they don't necessarily reveal the actual prices Apple will charge in America. But given what we know about last year's prices, they give us a great idea of what we can expect to spend. The actual prices might be lower, actually: 2015's iPhone 6s was $650 for the 16GB model, according to Digital Trends, while this list has the bottom-tier iPhone 7 selling for $790.
The first thing you should know: Apple is — allegedly — finally ditching that frustratingly tiny 16GB storage tier. Thank f*cking God. According to MacRumors, the new bottom tier is 32GB, which is enough space for a few dozen apps, a couple downloaded Spotify playlists and a year or two of photos. (I'd still recommend getting the 64GB, however.)
The second thing you should know: These are, allegedly, the full retail prices you'll pay for phones — that is, without a contract. Many consumers are on contracts with carriers like Verizon that charge, for example, $200 for the bottom-tier phone with a two-year contract. Then there's the AT&T Next plan, which requires a monthly payment on the phone but no money down. If you're deciding what to get, check out CNet's iPhone 6 chart, which shows why it's a great deal if you have a data plan that's over 10GB.