'Luke Cage' featurette explores how hip-hop and Harlem elevate the series' importance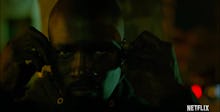 We won't have to wait much longer for the "Wu Tang-ification of the Marvel universe," as aptly described by Luke Cage showrunner Cheo Hodari Coker. The latest in Marvel's slate of Netflix series hits the streaming service Sept. 30, but in the meantime, fans can check out how deeply hip-hop is ingrained in the show. 
Netflix released their first featurette for Luke Cage Wednesday, delving into the show's soundtrack. The score, created by Adrian Younge and A Tribe Called Quest's Ali Shaheed Muhammad, accompanies the show's episodes that are named after different Gang Starr songs. 
"From a musical perspective, Ali and I look at this as we're creating 13 albums," Younge says. "It's 13 episodes, so it's like 13 albums." 
Coker notes that the show's use of hip-hop is best encapsulated in how it reflects the titular Luke Cage's action sequences in the show. The Tribe and Wu-Tang's boom-bap magnifies the intensity of the sequences brilliantly. 
"One of the things that I was explaining was the speed of hip-hop," Coker says. "It happens at the speed of thought, so if you really ran into Luke and then all of a sudden, 'boom,' there's going to be a beat. That's all it takes."
Luke Cage's score highlights Marvel's recent willingness to bring hip-hop into its creative space. Last year, they released variant covers of Deadpool and Howard the Duck with an homage to hip-hop duo Run the Jewels, who also collaborated with Marvel this May for a web series tie-in to their newest Black Panther series. That led to a full series of hip-hop-inspired comic book covers that have become highly sought-after collectors items on eBay.
Luke Cage will continue this trend, and the anticipation of Marvel's first series with a black superhero lead is best encapsulated by Wu-Tang Clan's Method Man. 
"Brothers like me have been waiting for this since I was eight years old," he said. "And now it's here and I'm ecstatic." 
Watch the featurette below: