Meet Brandon Dean, a 24-year-old mayor looking to change Brighton, Alabama, for the better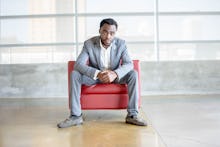 Brandon Dean isn't your ordinary politician. 
The 24-year-old made history on Aug. 23 when he became the city of Brighton, Alabama's newest mayor-elect. 
Dean defeated five candidates, which included incumbent mayor Barbara E. Watkins. He is the youngest mayor in Brighton's history, according to the Birmingham Times.
"I knew we needed new leadership at city hall," Dean said in an interview. "I knew we needed a new mayor, a new council. So I started looking for someone to run."  
It was a friend who made the suggestion to Dean to run for mayor of Brighton. But he was hesitant at first. 
"No, I could never beat Barbara and Eddie," Dean told his friends at the time, referring to Watkins and Eddie Cooper, the former mayor that was also running for the seat. "And three years later, they both ran and I beat both of them without a run-off!" 
But Dean comes with some political education, graduating from Howard University with a degree in political science and having interned on Capitol Hill twice in the office of Alabama Rep. Terri Sewell. He also founded and currently serves as the chair of the political action committee Our Blue Hope.
A fifth-generation Brighton resident, a young Dean was inspired by luminaries such as Dr. Martin Luther King Jr. and John F. Kennedy to pursue a career in public service.
"What I learned about Dr. King, Malcolm X and John Kennedy and Thurgood Marshall, those names inspired me and that's when the idea of public service became interesting to me," Dean said.
Brighton, a city of under 3,000 people, suffers from its own challenges. About a third of Brighton's citizens are in poverty. With dozens of vacant buildings, a rise in homicides and a lack of parks and recreational facilities, the young mayor has his work cut out for him. 
While on the campaign trail, Dean's platform focused specifically on tackling large-scale issues. "I talked about infrastructure and getting our roads, identifying millions of dollars to get our roads in better condition," Dean said. "I talked about demolishing the more than 175 abandoned and commercial properties in our city."
Dean also talked about gun violence, education reform, increasing access to health care and the ballot for Brighton residents who want to vote. Brighton, a city facing pressing issues of poverty and blight, desperately needs a push in the right direction. 
The young mayor's campaign wasn't without some controversy. Dean faced allegations of voter fraud after 80 absentee ballots were requested to be sent to his home address. 
"Those 80 applications belonged to people who were relatives and close friends who were concerned about getting their ballots on time and returned on time," Dean said. "We proposed sending them to a central location to avoid being taken, or lost." Dean said the investigation has ended.
Dean won't be alone in the task to make his hometown better. He was one of four millennials who were elected on Aug. 23, two of which ousted incumbents: Shawn Dale-Johnson, Ashley Henderson and Marquise Moore.
Dean will officially take his seat on Nov. 7. 
When asked what advice he would give to other young people interested in pursuing a career in politics, the young mayor-elect believes that it is important to be willing to take a leap of faith.
"No time is perfect. That's what I would have wanted to wait on when I decided to run for public office," Dean said. "The timing may not be perfect, but if it's what people are asking for and if you know you can do it, go forward."