Rudy Giuliani, Jeff Sessions wear "Make Mexico Great Again Also" hats at Trump rally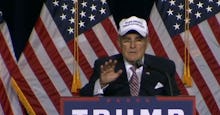 While speaking at a rally for Republican presidential nominee Donald Trump in Phoenix on Wednesday, campaign surrogate and former New York City mayor Rudy Giuliani alluded to the candidate's recent trip to Mexico by donning a very special version of Trump's signature hat.
Instead of "Make America Great Again," the revised cap said "Make Mexico Great Again Also."
According to Arizona station KTAR News, an identical cap was also donned by Alabama Sen. Jeff Sessions as he spoke at the event.
Earlier in the day, Trump completed the hastily organized visit to meet with Mexican President Enrique Peña Nieto — whose nation he has accused of sending criminals and "rapists" to the U.S. and promised to build a wall on the border of — in which the two politicians stuck a conciliatory tone. It didn't last — with Peña Nieto more or less accusing Trump of lying about whether or not they discussed whether Mexico would pay for said wall.
Mexican citizens and Latinos in the U.S. are broadly in agreement that Trump does not have their best interests in mind, so the most accurate way to describe the new hats? Next-level trolling.