Under President Obama, most Americans think their lives got better, according to survey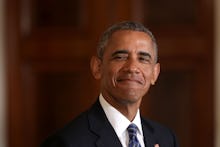 According to a new Gallup survey, under President Barack Obama, Americans across all racial and ethnic groups think their lives have gotten better — despite Donald Trump's many claims to the contrary. 
The study, released Tuesday, measured the percentage of U.S. adults who considered their lives to be "thriving." Since 2009 when Obama took office, that number has increased to 55.4%.
"Thriving" in the Gallup model is rating one's life a 7 or better on the Cantril Self-Anchoring Striving Scale. 
White, black, Hispanic and Asian-Americans have all seen positive gains in their life evaluations, with blacks seeing a 13% jump between 2008 and 2010. Gallup posits that the increase could have been due to Obama taking office, making blacks "feel more optimistic about their current and future lives even if his being in office hadn't yet had any tangible effect on their lives."
This number, however, has since decreased in Obama's second term, which is possibly due to social unrest in the black community and police-involved shootings, according to Gallup.
Whites and Hispanics saw modest gains under Obama as well, with 55.7% of both groups considering themselves to be thriving in 2016. Interestingly enough, during Obama's second term, white Republicans have seen improvement in their life evaluations. 
Among the four racial groups, Asians have continued to have the highest life evaluations, with over 60% thriving, according to Gallup. 
Other highlights of the Gallup study include: less Americans are worrying about paying for food and health care, and more Americans have good jobs (working full time). 
While Gallup notes that many factors of life improvement can't be totally credited to Obama's, most Americans seem to think America is pretty great already.