Hillary Clinton was the big winner from Donald Trump's immigration speech in Arizona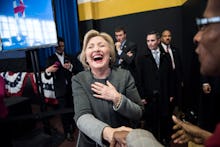 Never underestimate Donald Trump's ability to get in his own way.
That's the takeaway from Trump's Wednesday night immigration speech in Arizona — a red-meat-filled barnburner that likely did nothing to attract desperately needed new voters to his campaign, and looked more like the abrasive Trump from primary season rather than the new, more disciplined nominee that had emerged over the past few weeks.
After a week of conveying a softer and more compassionate tone on immigration, Trump took to the stage in Phoenix to lay out his plan to create a "deportation force" and build a wall on the U.S.-Mexico border that Mexico will pay for.
Those policies amount to roughly the same hard-line immigration stance that helped push him through the primary, earning him cheers from the likes of conservative agitator Ann Coulter — a sign that the speech is unlikely to help him make gains with suburban women and Hispanic voters whom he desperately needs to have any shot at victory in November.
Trump's return to primary form also came hours after a whirlwind trip to Mexico for a meeting with the country's president, Enrique Peña Nieto. Many said Trump managed to present himself as a level-headed, diplomatic version of himself that left even Trump detractors hopeful he had changed his tone.
But after appearing to leave Mexico on a high note, Trump later managed to bungle the visit by raising questions about whether he lied about the discussion that took place between himself and Peña Nieto.
Trump told reporters in a news conference directly after the meeting that he did not discuss with Peña Nieto whether Mexico would pay for the border wall Trump's touted at every turn of the campaign. However Peña Nieto denied that was the case after Trump had left, saying Peña Nieto told Trump Mexico would not pay for the wall.
Trump's ability to fumble his first diplomatic meeting, as well as his decision to double down on both the style and substance that benefited him in the primary, is welcome news for Hillary Clinton, who has seen her poll numbers fall slightly over the past two weeks.
Clinton's declining poll numbers were likely thanks to a combination of Trump's more toned-down rhetoric and potentially moderated stance on immigration — as well as a bad news cycle for Clinton that focused on the Clinton Foundation and her use of a private email server.
But the presidential race is not taking place in a vacuum.
Trump on Wednesday night proved he is still the same Trump that minority voters detest and educated voters fear.
Without changing that, Clinton is likely to maintain her lead and make it to the White House in November.