Georgetown was made possible by slavery — now the university is atoning for its past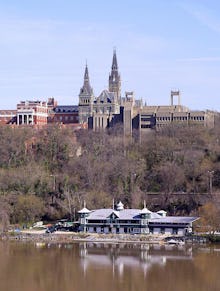 Nearly two centuries after 272 slaves were sold to ensure the campus' financial security, Georgetown University has announced that it will formally apologize to their descendants — and that it will also take steps to secure their descendants' futures.
According to the New York Times, steps laid out by Georgetown's president, John J. DeGioia, include granting preferential admissions status to those descended from the men, women and children sold to the Jesuit masters who ran the university in 1838.
Plans for the creation of an institute for the study of slavery, as well as a public memorial for the slaves, have also been announced. 
In a speech scheduled for Thursday afternoon, DeGioia is also expected to discuss plans to rename two buildings on campus: one for an "enslaved African-American man and the other for an African-American educator who belonged to a Catholic religious order," according to the Times.
The two buildings in question were previously named for the college presidents responsible for organizing the 1838 slave sale.
The planned steps have been heavily influenced by the suggestions of the Working Group on Slavery, Memory, and Reconciliation — a crew of students, administrators and alumni formed by the university in the fall of 2015 who were tasked with tracing the role that slavery played in Georgetown's history.
In a report submitted in the summer of 2016, the Group provided a list of recommendations that the University could adopt to atone for its history; many are expected to be announced as concrete plans on Thursday.
Though many universities, including Brown, Harvard and the University of Virginia have publicly recognized their historical ties to the slave trade, Georgetown might be the first to offer a preferential admissions status to the descendants of those slaves, the Times reports.
While the success of the measures will depend largely upon the university's ability to locate the descendants of those 272 slaves and ensure that they're aware of the benefits being offered to them, DeGioia said he is confident that it will be possible.
"We know we've got work to do, and we're going to take those steps to do so,"  he told the Times in an interview. "It needs to be a part of our living history."