Don't look now, but Donald Trump is leaving himself plenty of wiggle room on deportations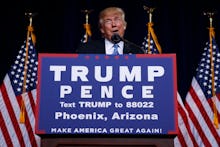 Donald Trump did plenty Wednesday night in a bellicose speech in Arizona to reassure the conservative base he hasn't gone soft on immigration.
But even in an address packed with Republican-friendly applause lines about "no amnesty," "ideological certifications" of new immigrants and making Mexico "pay for the wall," Trump left himself a certain amount of room for future spin.
Trump's speech generated a flood of headlines about how the buzz surrounding his supposed pivot on immigration policy ended up a bust.
Still, the blunt force of what he laid out focused on a specific subset of immigrants: criminals.
He promised "to create a new special deportation task force focused on identifying and quickly removing the most dangerous criminal illegal immigrants in America who have evaded justice."
Whatever his ultimate plan, there is a more than a technical rhetorical difference between Trump's earlier promises and what he said in Phoenix.
This is not a case of, as campaign spokeswoman Katrina Pierson memorably called it, Trump changing only "the words that he is saying."
Vowing that he would and could find and eject some 11 million undocumented immigrants en masse is a harder promise to live up to than Trump's assertion Wednesday: "Anyone who has entered the United States illegally is subject to deportation."
Ahead of the speech, Donald Trump Jr. had described his father on CNN as still dedicated to driving undocumented immigrants out of the country and securing the border — but couched how that would actually happen in "baby steps."
Trump's speech in Phoenix carried through on that notion.
Notably, Trump said little about the U.S.-born children of undocumented immigrants — those kids he's described in the past as "anchor babies" who shouldn't be entitled to birthright citizenship.
Again, he focused his tough talk on drawing a bright line between the core goals of his immigration policy and that of Democratic rival Hillary Clinton, saying she "talks constantly about her fears that [immigrant] families will be separated" but pays little heed to the families of those victimized by criminal immigrants.
Trump talked plenty about families — and brought up on stage a group of "Angel Moms" whose children were killed by undocumented immigrants.
But in the end, he dispensed with the issue of Dreamers children brought to the United States at a young age by undocumented immigrants, with a sweeping vow to "cancel unconstitutional executive orders and enforce all immigration laws."
The takeaway: Trump's immigration speech clearly did much to enrage his foes and potentially soothed harder-right spectators who worried that he might be easing up on one of the signature issues of his unorthodox campaign.
But the morning after Phoenix, Trump immediately proved he hasn't finished spinning where he stands on the matter:
Whether by design or through a continuing lack of specificity about methods, deadlines and feasibility, Trump is leaving the door in his proposed "great wall" open at least a crack to future calibration.