'Game of Thrones' just cast the actor who played Professor Slughorn for season 7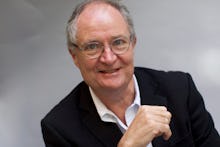 Game of Thrones isn't coming back until next summer, but that doesn't mean fans can't spend the next eleven-or-so months wildly speculating about what's coming in season seven. 
The latest tidbit of Game of Thrones information is that Oscar-winning actor Jim Broadbent, perhaps most recognizable to U.S. audiences from his role as Hogwarts potions professor Horace Slughorn in the Harry Potter films, has been cast in an as-yet-unspecified role in the series, reported Entertainment Weekly.
According to EW, Broadbent's role in the upcoming season of Game of Thrones is "significant," but beyond that, the show's creators are keeping mum. But that doesn't mean we can't make guesses about what kind of role the actor will play. Perhaps he'll be a wise maester training Samwell Tarly in the Citadel? Or a King's Landing merchant prepared to turn traitor on House Lannister and assist Daenerys Targaryen in her invasion of Westeros?
Now that the television series has departed from the books so dramatically, it's hard to say what kind of new roles will be introduced in season seven. But, no matter who's playing who, we know that GoT fans are in for some wild surprises.