Linda Burney just became the first aboriginal woman elected to Australia's parliament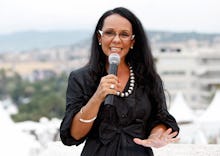 Linda Burney made history on Wednesday by becoming the first aboriginal woman to become a member of Australia's Parliament.
Burney — a member of the of Wiradjuri people — was sworn in by her fellow tribeswomen while wearing a kangaroo skin cloak to become an MP for the House of Representatives, according to Mashable.
Burney, a Labor Party MP representing New South Wales of Barton in Sydney, gave a powerful speech about her journey as a woman indigenous to Australia.
"I was born at a time when the Australian government knew how many sheep there were but not how many Aboriginal people," Burney said in her speech. "I was 10 years old before the 1967 referendum fixed that."
The 1967 referendum expanded the acknowledged and expanded the rights of indigenous and aboriginal people in Australia by including them in the Census and establishing laws for them.
In her speech, the social justice activist also said she wanted this moment to inspire many young men and women of indigenous backgrounds.
"If I can stand in this place, so can they — never let anyone tell you, you are limited by anything," Burney said.
After the speech, Burney was greeted with a hug by the only other indigenous MP – the Liberal Party's Ken Wyatt AM — who is also the first aboriginal person elected into parliament.
You can watch Burney's powerful speech in full below.