Anthony Weiner's problem isn't porn or sex addiction — it's Anthony Weiner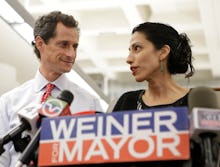 Anthony Weiner has had a terrible, horrible, no good, very bad week — and Pamela Anderson wants you to think it's because of an illness. 
Anderson, joined by fellow armchair dick pic-ologist Rabbi Shmuley Boteach, penned an op-ed Wednesday in the Wall Street Journal diagnosing Weiner with pornography addiction — despite the fact that the former congressman has never spoken publicly about his pornography consumption at all. 
"If anyone still doubted the devastation that porn addiction wreaks on those closest to the addict, behold the now-shattered marriage of Mr. Weiner and Huma Abedin," Anderson and Boteach write. 
The erstwhile Playboy model and her cohort aren't the only medical experts on the case. To hear the internet and the media tell it, Weiner has everything from sex addiction to sociopathy to something called exhibitionistic narcissism (a WebMD Google if there ever was one). The severity of such diagnoses are enough to conjure visions of Weiner as an 18th century Dickensian orphan, lying prostrate in a hospital ward while delicately coughing blood into his palms. 
But of course, Weiner isn't really sick at all — unless you consider white male entitlement a disease. 
In its purest form, white male entitlement, or the idea that white men in our culture deserve everything short of a free Ferrari simply by virtue of their skin color and genitalia, is a condition that allows men to continuously commit egregious violations against marginalized people, primarily women and people of color. 
White male entitlement is one of the prime motivating forces behind Donald Trump's predilection toward spewing racist, misogynistic invective without suffering meaningful, immediate consequences.
It's what drives men like Brock Turner and Owen Labrie to sexually assault young women and assume (correctly) that they'll walk away with a mere slap on the wrist. It's what awards men like professional troll Milo Yiannopolous, known for such witty and erudite literary critiques as calling a black actress "barely literate," major editorial leadership positions. 
And it's what compelled Weiner to sext women who weren't his wife and expect to get away with it, personally and politically, over and over and over again.
When white men offend, a peculiar thing happens: Society doesn't actually allow them to take responsibility for their actions. Instead, the offender (or our culture at large) places the blame on some shadowy, enigmatic third party, akin to the Cigarette Smoking Man from X-Files. 
For the convicted rapist Turner, Stanford's "party culture" is what drove him to digitally penetrate an unconscious woman behind a dumpster; for Weiner, who has been caught sending pictures of his dick to women on the internet on three separate occasions, it's sex addiction. 
Since Weiner's first sex scandal in 2013, that phrase has been thrown around so many times it's easy to forget that sex addiction (and its equally ubiquitous cousin, pornography addiction) has no medical or scientific basis. If we view an addiction as a chemical response to a stimulus that occurs in the brain, which is how the medical community largely defines it, there simply isn't enough evidence to support its classification as an addiction. 
Former UCLA researcher Nicole Prause told the Daily Dot in 2014 that watching porn triggers a reward response in the brain, similar to that prompted by eating a piece of chocolate or rooting for your favorite baseball team. "Any preferred stimulus, you're going to show an increased reward response, and that is not any evidence of addiction," Prause said. 
Calling Weiner a sex addict isn't just (probably) scientifically inaccurate — it Wite-Outs any responsibility he might bear for his own actions. David Ley, a clinical psychologist who has also debunked the concept of sex addiction, told New York magazine that the term "strips away a huge amount of the psychological complexity that drives self-destructive human behavior."
It's easy to understand why the general public would want to attribute Weiner's personal problems to an external source. If you look at a man and see one thing (his brilliant political mind, his beautiful wife and child, the seeming Teflon of his reputation that allowed him to become an early contender in a horserace for New York City mayor), it's hard to understand why he'd want to throw it away to be someone else entirely (a man who shows his dick to women on the internet.) 
But the truth behind Weiner's sexting obsession is far less complicated than we'd like to think. His desire to show his penis to strange women stems from the same dark, thorny labyrinth in our brains where all of our sexual desires take root, whether they're sanctioned by society or not. 
The question isn't why he does it — it's why he keeps doing it, time and again, when his political career (and now, his marriage) keep suffering the consequences. 
The next time a man with a promising future sends a dick pic on Twitter, don't ask yourself why he does it. He does it because he can.
The answer to that is: Why would he not? In a world where people will rush to chalk up men's bad behavior to a host of external sources — campus drinking culture, the pressures of fame, a panoply of non-existent mental disorders — there is no reason for men to stop behaving badly. They know, in their hearts, they will be exonerated for their actions, simply because society has exonerated them for the destruction they have wrought, time and again.
The next time a man with a promising future rapes or murders or bullies or sends a dick pic on Twitter, don't ask yourself why he does it. He does it because he can. He may lose his job representing the people of New York state — but he'll get a gig on cable news TV in return. He may lose his wife — but hey, if Tiger Woods can rebound from a cheating scandal with a swimsuit model and Olympic skier, then Weiner will probably do just fine. 
Men like Weiner transgress over and over again because they know that even if there are immediate consequences — and there often aren't — they'll get away with it in the long run. White male entitlement, the implicit knowledge of how the cycle of transgression and forgiveness turns and turns, is more of an illness than "sex addiction" will ever be — and it's not one suffered by Weiner in isolation. It's one that we are all catching and transmitting to each other, over and over again, without a cure in sight.